On our return east from Yellowstone N.P. we spend one night at the Kansas City East KOA Holiday campground. This was our last stop before spending a few days exploring St. Louis. The park is easily accessible from Interstate 70, and a perfect spot to stop and relax after a long day of driving.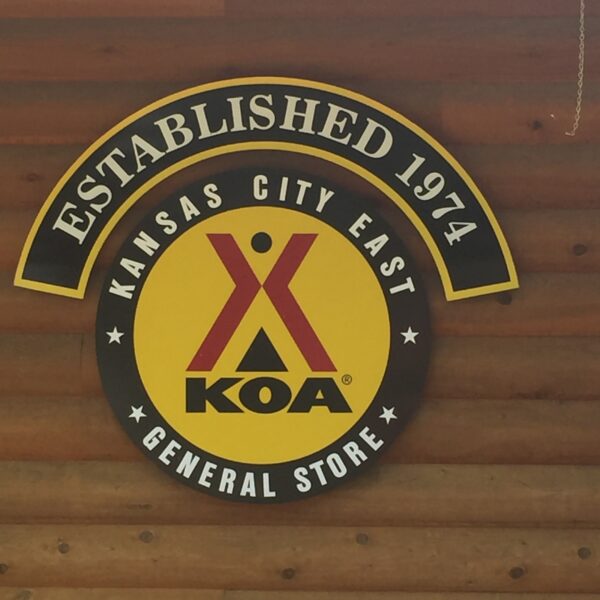 Kansas City East KOA Holiday Location
303 NE 3rd Street Oak Grove, MO
From I-170 Exit 28. Then travel  1 block north on H Hwy, then East on 3rd St, two blocks.
Jumping Pad, Basketball Court, and Playground

Swimming Pool

Laundry Room

Bathrooms and Shower Facilities 

Full Hook-Up Rv Sites & Cabin Rentals 

50amp Electrical Hook Ups 

General Store with RV Accessories 

Pizza Delivery RIght to Your Site 
This Rv park is a small campground. One of the benefits is that it is easily accessed from I-70. Of course, this is also one of the cons. Since it is so close to the interstate the highway noise is prevalent. However, we would not let this discourage you. While inside or RV at night the noise was not an issue.
Our site was unlevel and made of gravel. However, we often plan for unlevel sites. Therefore, we were prepared to level our RV.
The staff was more than friendly, and helpful.
This park was as by no means a luxury campground. Yet, when we pull off the highway for the night we are not necessarily looking for luxury.
The Kansas City East KOA was part of our cross-country journey to Yellowstone. As we made our way east we stopped here for one night.
Allthough it was a quick stay we had an enjoyable time. The pool was a great way to relax after a long day of driving. Of course, we took advantage of the pizza in the camp store for dinner.
Unfortunately, our evening was cut short by a strong thunderstorm.
If you are traveling through the are a need a place to stop for an evening we would recommned this KOA.
We love to hear from our followers. Please leave a comment below. 
Have you stayed at the Kansas City East KOA? How was your experience?