A cross-country road trip to Yellowstone National Park is a magical experience. It is certainly a road trip you will never forget.
However, any cross-country road trip requires a lot of planning.  This page includes all of our campground reviews, National Park reviews, and memorable stops. Of course, you may not be following the same route. However, you are sure to find something to help make your planning a little easier.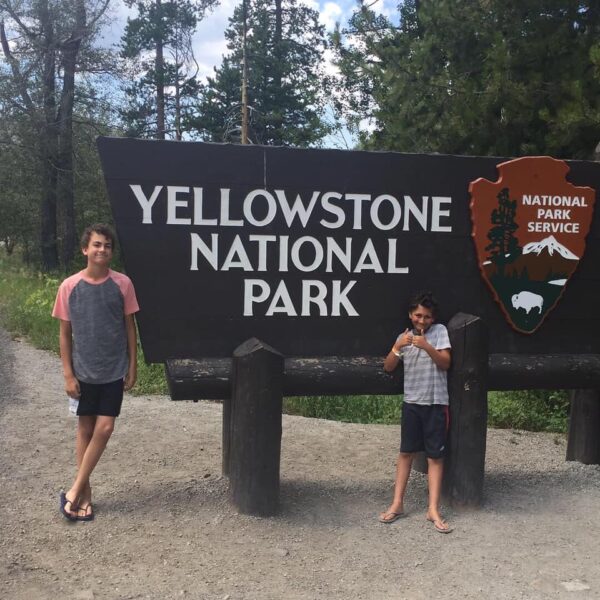 Our Route to Yellowstone N.P.
Our second cross-country RV trip took us from Massachusetts to Yellowstone National Park and back.
Like all RV adventures, this road trip was filled with unique sites, good people, numerous National Parks, and of course many laughs and memories.
Over a period of 21 days, we traveled over 5,000 miles, stayed at 4 different National Parks, and camped in 12 different campgrounds.
Click on the tab in the upper left corner to view all of our stops
A road trip to Yellowstone isn't just about the destination. It's also about the stops along the way.
 Our stops include Niagara Falls in Canada, Badlands National Park in South Dakota, and the Gateway Arch in St. Louis.
The menu to the right highlights all the amazing stops along our road trip to Yellowstone.
Road Trip to Yellowstone Memorable Stops 
Yellowstone National park is truly heaven on earth.
Fortunately, it offers many different options for lodging. If you are traveling by RV be sure to check out our Guide to RV Camping in Yellowstone N.P.
Traveling in an Rv is an amazing way to make memories, and see the country. We hope that this page will allow you, and your family, to enjoy your road trip to Yellowstone.
If you need help planning a long trip with your family and looking for ideas please feel free to reach out to us. We will be happy to help in any way possible.
We love to hear from our followers. Please leave a comment below. 
Have you traveled cross country to Yellowstone? Do you have any road trip tips? How was your Yellowstone experience?