This stop for us was completely random. We had been traveling west along Interstate 90 for a number of hours after leaving the Waterloo/Lost Island KOA. After a couple of hours on the road, we were looking for a place to pull over, stretch our legs, and have some lunch. Fortunately, we pulled into the Chamberlain South Dakota Rest Area on I90. It was here that we came across the magnificent, awe-inspiring, Dignity of Earth and Sky statue. In addition, there is a Lewis and Clark museum in the rest area where we learned about their expedition in the area. 
The Dignity of Earth and Sky Statue Location
Located at the Chamberlain SD Rest Area facility between exits 263 and 265 on I90
Dignity Of Earth And Sky Facts 
Stainless steel, 50-foot-tall statue 

Designed by sculptor Dale Lamphere 

Honors the cultures of the Lakota and Dakota people. 

The 50-foot Native American woman gracefully wears a dress patterned after a two-hide dress of the 1850s

She holds outstretched a quilt featuring 128 stainless steel blue diamond shapes designed to flutter in the wind. 
Dignity Of Earth And Sky is a sculpture on a bluff overlooking the Missouri River near Chamberlain, South Dakota. The 50-foot (15.24 meter) high stainless steel statue by South Dakota artist laureate Dale Claude Lamphere depicts an Indigenous woman in a Plains-style dress receiving a star quilt. 
According to the sculptor, the purpose of the statue is to honor the cultures of the Lakota and Dakota peoples. 
The statue was a $1 million gift from Norm and Eunabel McKie of Rapid City to all people of South Dakota. The gift was to help celebrate South Dakota's 125th anniversary of statehood. 
Chamberlain Rest Area's Lewis and Clark Interpretive Center
The rest area sits on the eastern bank of the Missouri River. Here you will also find the Lewis and Clark Interpretive Center. It is open from 8 a.m. to 5 p.m. every day and admission is free.
Inside, you'll find displays and information about the Lewis & Clark Expedition of 1803 to 1806, which took the explorers through what is now South Dakota.
In addition, you will learn all about the keelboats that carried the expedition down the Missouri River. You can climb the staircase into a 55-foot-long replica keelboat. Of course, this perspective offers some stunning views of the valley and river below.
This was a great little museum that taught us new things regarding the Lewis and Clark expedition.
Also, be sure to step outside and walk around the grounds for the most impressive sights of this rest stop. Here the views of the Missouri River are stunning.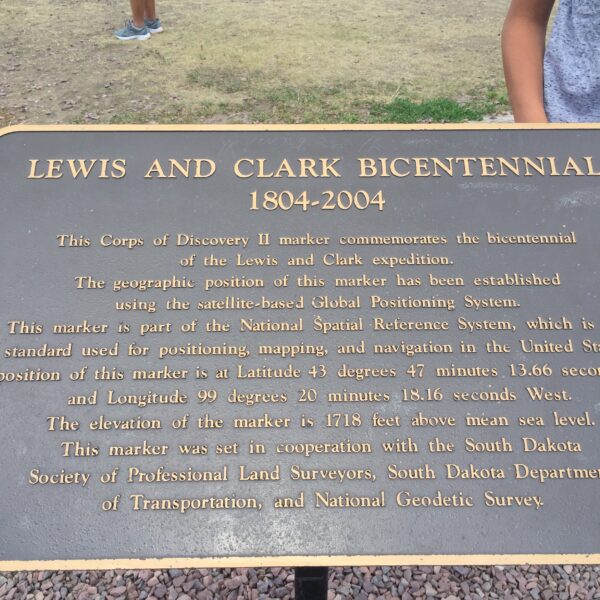 We had been on the road for approximately 6 hours between stops on our trip to Yellowstone N.P. It was time to pull over, stretch our legs, and make some lunch. 
If you have ever traveled I90 through the Dakotas you know that the view can get boring at times. In addition, there are not a lot of places to pull over to relax and stretch 
Our hunger pains encouraged us to pull into this rest area with no idea what we were about to find.
We spent about an hour here between lunch, viewing the museum, and the statue. This is a great example of being able to learn while traveling in an enjoyable way.  
If you are traveling through the area, east or west, along I90 we highly recommend pulling into this rest area.
Here you can view all the exhibits, stretch your legs, and have a great picnic before heading back to the interstate.
Of course, random stops like this along America's highways, and byways, is what makes RV travel so exciting. You never know what you will find and oftentimes in the most random places. The lesson here is don't be over-focused on getting from point A to point B. There is a lot in between, and you never know what you will come across.
To learn more about this unique rest stop by checking out the Travel South Dakota website.
We love to hear from our followers. Please, leave a comment below.
Have you ever visited the Chamberlain South Dakota Rest Area? How was your experience?