This KOA Resort, in heart of the mid-west, surrounded by corn, is a diamond in the rough in our opinion. This island-themed campground, located directly behind the Lost Island Water Park is a great family getaway. In our experience, this is certainly Iowa's best RV park that we have visited. To learn more about KOA campgrounds, and resorts, be sure to read our KOA Campground blog post.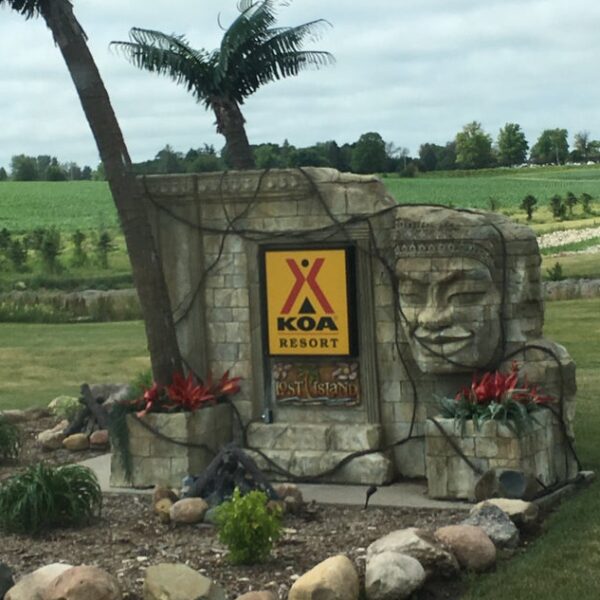 Waterloo / Lost Island KOA Resort Review 
Waterloo / Lost Island is the only KOA resort in Iowas. Allthough KOA resorts have everything you need on-site for a complete vacation get-away this one offers something even more. Within walking distance is the Lost Island Waterpark. This is why we rate Waterloo / Lost Island KOA Resort as Iowa's best RV park.
Amenities
Waterloo / Lost Island KOA Resort offers all the amenities you would expect from a KOA campground. These amenities include:
50 Max Amp

100′ Max Length

Wi-Fi

Cable TV

Snack Bar

Propane

Kamping Kitchen

Fishing

Mini Golf

Kamp K9
In addition, this KOA offers a disk golf course, a pond with a swimming beach, and a large store and gas station on site.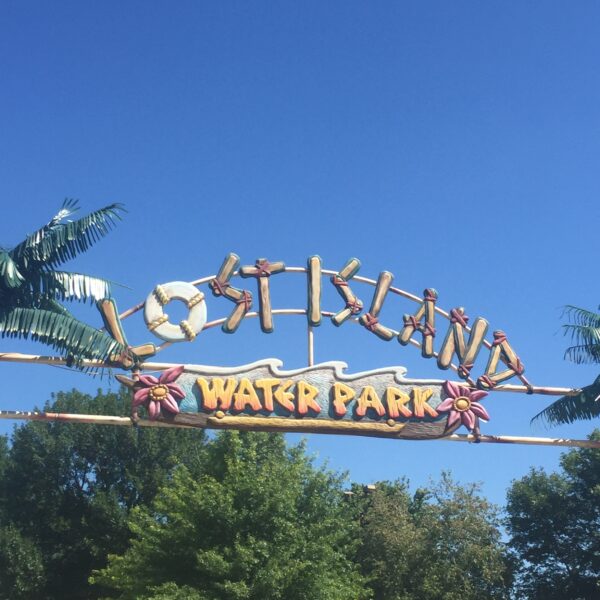 The Lost Island water park is only ¼ mile from the KOA. It is open daily between June and August. Ticket prices vary depending on the time of the season and are only valid for the selected date.
Online tickets are available for purchase until midnight of the night before. Although you can get tickets at the KOA we reserved ours ahead of time. This way ensured we were able to get in during our stay. The waterpark admission includes all rides and water attractions at Lost Island. The park also offers same-day re-entry. We were able to walk to our camper for lunch and then return to the park with no hassle. 
Our Waterloo / Lost Island KOA Resort Experience 
We stayed two nights at the Waterloo / Lost Island KOA Resort on our way west towards Yellowstone National Park. This was a great way to break up the drive through the heartland of America. The first night we played disk golf and enjoyed an evening around the campfire. In addition, the kids had a great time riding their bikes around this large campground. Our second day here was spent entirely at the Lost Island Waterpark. This park was certainly more than we expected and was a nice way to break up the trip to Yellowstone. In addition, it is a great place for a family getaway for those living in the area.
We love to hear from our followers. Please leave a comment below. 
Have you stayed at the Waterloo / Lost Island Waterpark KOA Resort? How was your experience? Do you have anything to share about the campground or surrounding area?