The Grand Teton National Park is often overshadowed by its close neighbor Yellowstone. However, this park is one of the most majestic parks we have visited. If you stay in Yellowstone, you can easily do one day in Grand Teton National Park. Better yet, you should add this fantastic park to your itinerary.
Fortunately, unlike Yellowstone, you are not rushed to see everything. In addition, the crowds are much smaller. This makes your stay here relaxing and enjoyable. The views offered here are like no other. There are easy hiking trails that offer amazing photogenic views.
When planning a road trip to Gand Teton NP, please read our guide to planning a memorable RV family vacation.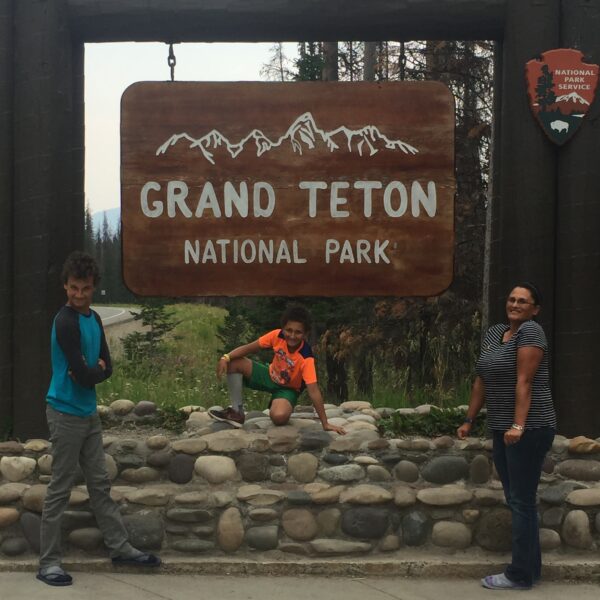 If visiting from Yellowstone the best route is south along the John D. Rockefeller Memorial Parkway. The National Memorial Parkway connects both National Parks. 
To get there from the south, get on I-15 N and get to Highway 89 to reach the park. 
From I-15 you can also take 26 East to Highway 31/22 to Grand Teton, for an extraordinary scenic drive.
If you are coming from Wyoming on I-80, you take 191 North to Highway 89 to the park.
From the west, get on I-15 and then onto Highway 89.
Driving from the east, you take I-80, then Highway 287 N. to Highway 26 to the park.
About Grand Teton N.P. 
Grand Teton National Park is one of the top ten most visited parks in the N.P. system. It averages over 2 million visitors per year.
Located just 10 miles from Yellowstone National Park. It offers amazing views of the Teton Moutain Range along with surrounding lakes, and hiking trails.
The area around the Teton mountain range was established as a national park in 1929 in order to protect the land. This protected area was then extended into the surrounding valley in 1950.
Entrance Fees
 There is no entrance fee when entering from the John D. Rockefeller Memorial Parkway.
 Private Vehicle – $35.00 – good for 7 days for private, non-commercial vehicle.
 Motorcycle – $30.00 – good for 7 days for private motorcycles.
 Hiker/Biker – $20.00 – good for 7 days for each visitor 16 years and older entering by foot, bicycle, ski, etc.
What To Do With One Day at Grand Teton
Start at National Park Service Visitor Center
We always recommend starting at the Visitor Center when visiting one of the 423 National Park Service locations.
This park is 45 miles in length from north to south, and 26 miles wide. In addition, it covers 310,000 acres, 485 square miles. This certainly will make it difficult to decide where to start. Fortunately, the Park Rangers can help you plan an itinerary that suits your needs and abilities.
There are four visitor centers within the Park.
The Craig Thomas Discovery and Visitor Center in Moose is open from spring to fall. In addition, the Colter Bay Visitor Center, Jenny Lake Visitor Center, and the Laurance S. Rockefeller Preserve Center are open during the summer.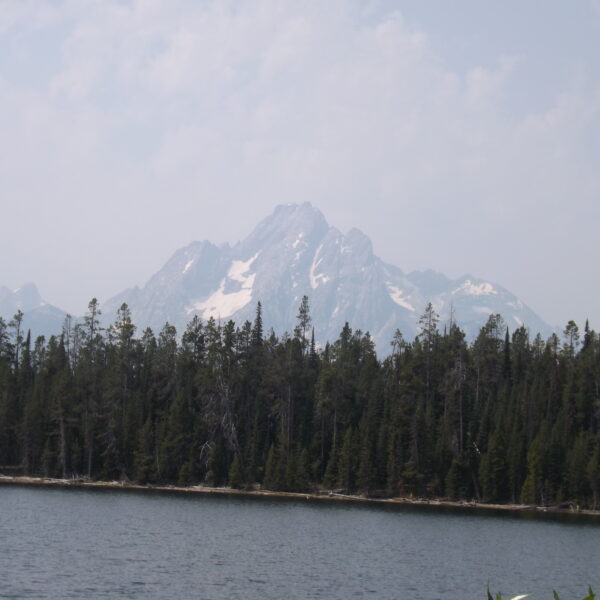 You probably don't think this needs to be mentioned. However, this park offers some of the best opportunities to take amazing mountain pictures. 
In addition to mountain views, this park offers a ton of wildlife photo opportunities. The park is home to grizzly and black bears, bison, moose, elk, pronghorn, and more. 
Be sure to take some time to appreciate the views, and be sure to capture the magic with some photos. 
Go Hiking and View Wildlife
As mentioned this park has plenty of wildlife viewing opportunities. There are 6 designated wildlife viewing areas throughout the park. Of course, spending time on the hiking trails will also give you an opportunity to view wildlife.
Before going out on a hike be sure to stop and speak with a Park Ranger. The park offers more than 45 hiking trails. In addition, the difficulty ranges from flat and easy to steep and extremely difficult. The Rangers at the visitor centers are happy to discuss with you how much time you have, your experience, and recommend trails to help you best enjoy your time.
Become a Junior Ranger 
While at the visitor center be sure to look into the Junior Ranger Program. This free program will help you learn about the park, its geology, and wildlife.
If visiting with children this is a great program to help keep them engaged. In addition, they will learn about nature and geology while enjoying this amazing park.
To learn more about this amazing program visit our Junior Ranger Program blog post.
Conclusion 
Our visit to Grand Teton National Park was a part of our cross-country trip to Yellowstone N.P. 
We spend one full day here and had an amazing experience. The day started at the Colter Bay visitor center. From here we hiked the Lakeshore Trail. This is a quick 2-mile loop that offers amazing views of Colter Bay and the majestic mountains.
Next, we moved hiked the Leigh Lake trail. This is a 4-mile hike that is relatively flat, and easy. We did it with our kids and had no problems.
We found that this was a nice break during our stay at Yellowstone. Yellowstone is often crowded, and its size can be overwhelming. Our day at Grand Teton was relaxing, and an enjoyable day for all.
We love to hear from our followers. Please leave a comment below.
Have you ever visited Grand Teton National Park? How was your experience? Do you have any tips for a one-day visit?