Are you traveling with kids? Have you ever wondered how to keep them entertained, and connected with the National Parks? Are you looking to instill a sense of wonder and respect for nature and history?  Then the National Park Service Junior Ranger Program is exactly what you need. 
The Jr. Ranger Program is an absolutely free program conducted in almost all parks and NPS locations. This is an amazing opportunity for kids of all ages, and parents, to join the National Parks "family". The program is as simple as visiting a park, completing activities within them, sharing answers with a Park Ranger, and receiving a Jr Ranger badge and certificate. 
The Jr Ranger badges are all unique to the specific park and are great souvenirs of your time at the Park.
Our family loves this free program. We started visiting the national parks and monuments when our youngest was in the fourth grade. It was first introduced to us by the Park Rangers at the Grand Canyon National Park. since then, completing the junior ranger booklet and learning about the location we are visiting is a highlight for the family. Our ultimate guide to the Jr. Ranger Program will help you make lifelong memories, and continue learning while traveling with your family.
What is a Junior Park Ranger?
Simply put, they are Junior Park Rangers. All you need to do is walk up to the information desk at a visitor center. There, the park ranger on duty will spend extra time explaining the. The Park Ranger will give you a free booklet for kids to guide them as they explore the park. Becoming a Junior Ranger is fun fun and easy – for adults as well as kids.
In order to become an official Junior Ranger, you need to take the Junior Ranger Program oath. This oath affirms the NPS Jr Ranger motto of Explore, Learn, Protect. 
Once kids, or adults, take the oath they are promising to explore the National Parks, learn all they can about them, share what they have learned, and protect the parks. 
The Junior Ranger Program Oath
I am proud to be a National Park Service Junior Ranger. I promise to appreciate, respect, and protect all national park places. Also, promise to continue learning about the landscape, plants, animals, and history of these special places. In addition, I will share what I learn with my friends and family.
Where You Can Earn Junior Ranger Badges 
The NPS website has a list of parks with Junior Ranger programs. This extensive list covers a majority of the 423 sites managed by the National Park Service. Of course, if you are in doubt you can ask a Ranger at the park entrance, or Rangers working in the visitor center. 
It is important to understand that Junior Ranger badges aren't only at the National Parks but at all types of National Park Service-managed sites. These include national battlefields, historic monuments, national monuments, national historic sites, seashores, etc. 
In addition, you can earn Jr Ranger badges from home by participating in the Jr Ranger online program.  
The National Park Service oversees 423 different locations all throughout the country. Each of these offers a Junior Ranger program. Therefore, it is not too difficult to find a location and enjoy the program. 
Of course, there are a few different ways to approach this.  Maybe you are planning your next trip, and want to include some NPS locations. If so we highly recommend using the Find Your Park website. This is an easy-to-use website that will help you find an NPS location while planning. 
Another way to find a park is to keep an eye open for the brown NPS signs along the highways, and interstates as you travel around. This is how we found the Herbert Hoover National Historic Site. We saw a sign on the highway as we were driving threw Iowa, and pulled in for a quick stop. 
The easiest tool to help you find your Park is the NPS app.
The NPS App is the official app for the National Park Service with tools to explore park locations nationwide. You will find interactive maps, tours of park places, on-the-ground accessibility information, and much more to plan your national park adventures before and during your trip. This free app is currently available for iOS and Android devices.
How to Earn Your Junior Ranger Badge 
The process to become a Junior Ranger is fairly simple. You first need to stop at the location's visitor center and ask for the Jr Ranger booklet. Most are free. However, a few, like Yellowstone, will cost a small fee.
As you explore the NPS location you work to complete the book according to the age requirements. Each booklet has different activities for differing age levels. Therefore, kids of all ages from 5 and up will be able to complete the booklet.
Many of the programs require you to attend a Park Ranger tour or talk. In our opinion, this is one of the best parts of the program. The Rangers are knowledgeable about the location and share great insights and lessons.
Once completed simply return the booklet to a Ranger, have them review it, and take the Junior Ranger Oath.
Can't Get to A NPS Location? No Problem Earn Online….or By Mail!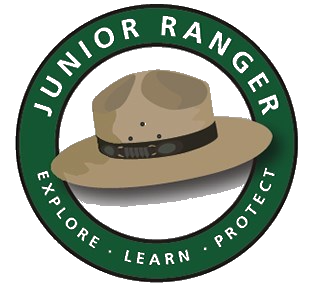 The NPS offers a Junior Ranger Online program. This program is free and allows you to complete a large number of Junior Ranger Programs right from your own home.
The folks at Craft Knife have even published a complete list of Jr Ranger programs that can be done through the mail.
Our Junior Ranger Program Experience
Our very first Junior Ranger program was at the Grand Canyon National Park. After driving over 2,000 miles over 8 days we arrived at this magnificent Park. So then now what? How do we know what exactly we are looking at? What can we do with the kids at this giant hole in the ground to keep them engaged? So we went to the visitor center and asked the Park Ranger that exact question. It was here we were introduced to the Junior Range Program, and the rest is history.
From that day forward we were committed to visiting as many NPS locations as possible, and earning as many Jr Ranger Badges as possible.
Our most memorable Jr Ranger program was while visiting Bryce Canyon National Park. During a Park Ranger-led tour of the park, a sudden thunderstorm developed while we were in the canyon. We went from learning about geology to everyone running in different directions to find cover from hail, and lightning. Of course, we also didn't get our books signed. Thankfully, while at the visitor center later in the day we ran into the Ranger form earlier, he signed the books.
Fortunately, we have been able to complete this program at 30+ different NPS locations all across the country.
The Junior Ranger Program is an amazing way to not only keep the family engaged while traveling, but also a way to keep learning while on vacation.
We love to hear from our followers. Please leave a comment below. 
Have you participated in the Junior Ranger Program? What was your favorite location to visit? Do you have any tips on visiting NPS locations, or learning while traveling?