The Mount Rushmore National Memorial is one of the most iconic National Park Service locations. This iconic mountain sculpture is often found on the bucket list of many RV travelers. This iconic presidential landmark is nestled in the Black Hills of South Dakota. Fortunately, visiting Mount Rushmore in an RV is not difficult. Here we share all that you need to know when planning to take your RV to Mount Rushmore. 
How To Get To the Mount Rushmore National Monument 
The Mount Rushmore National Memorial is located in a rural part of South Dakota and is somewhat off the beaten path. However, it is easily doable by RV.
South Dakota Highway 244 is the main road to Mount Rushmore.
From the north take I-90 to Rapid City, and then 16 south to 244.
From the south, you can take 385 north from I-80 until you reach 244.
Mount Rushmore is often a day trip for many families. We have included travel times from some of the other famous attractions that people visit when planning on traveling to Mount Rushmore.
Rapid City to Mount Rushmore is 31 Minutes
Wind Cave National Park to Mt Rushmore is 45 minutes
Badlands National Park to Mount Rushmore is 1 hour and 30 minutes
Denver to Mt Rushmore is 5 hours, 55 minutes
Sioux Falls to Mt Rushmore is 6 hours, 40 minutes.
Theodore Roosevelt National Park to Mt Rushmore is 4 hours, 25 minutes.
RV Parking 
All though Mount Rushmore does not have an entrance fee it does have a small parking fee.
A parking pass will cost you $10. However, it is good for 1 year. Therefore, if you wish to return during the year you are all set.
Fortunately, they have recently changed the approach to the parking garage in order to help alleviate congestion at the entrance. Most vehicles will use the automated ticket dispenser to get a ticket. However, RV's still have a staffed booth to help direct you to the right parking area.
The parking garage can accommodate RVs up to 45 feet in length. There is one parking area for smaller units that includes about 25 parking spaces. In addition, there are about 40 spots scattered along the edge of the complex for longer RVs and buses.
What To Do At Mount Rushmore National Memorial 
Of course, the first thing you do when you visit Mount Rushmore is see the larger-than-life sculpture of George Washington, Thomas Jefferson, Theodore Roosevelt, and Abraham Lincoln.
However, there are a number of activities that allow you to learn the history, and observe the beauty of Mount Rushmore.
Below is a list of things to do while that will make your time at Mount Rushmore more memorable.
We recommend giving yourself 2-4 hours to fully enjoy your stop here.
The Avenue of Flags is the main walkway up to Mount Rushmore. Along the walkway, you are greeted by flags of all 50 states, and the territories of the United States.
The Avenue is arranged in alphabetical order. The names of each state or territory are listed on the pillars directly below each flag.
Walking through the Avenue of Flags helps remind us of our common heritage, history, and ideals.
Enjoy The View From The Grand View Terrace 
The Avenue of Flags will lead you right to the Grand View Terrace. This is the primary viewing point where you will have a clear view of Mount Rushmore.
The unobstructed views of this massive monument are the classic views most people are familiar with from pictures of the monument.
This is the best location for iconic Mouth Rushmore photos.
Visit the Lincoln Borglum Visitor Center
When visiting a National Park Service site, we always recommended starting the visitor center.
The Mount Rushmore National Memorial's visitor center is located beneath the Grand View Terrace.  Here you can view exhibits and enjoy a 14-minute film describing the reasons for and methods used in carving Mount Rushmore. Here you will get a true understanding of the immense amount of work that it took to carve the faces into the mountain.
 Complete the Junior Ranger Program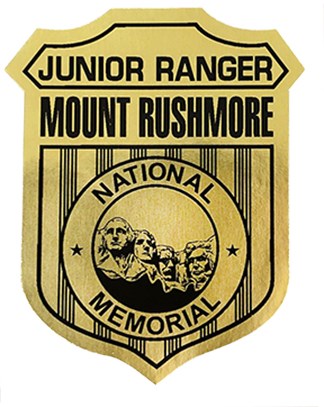 One of the things we love about the National Park Service is the Junior Ranger Program.
This program is designed to help teach children, really people of all ages, the importance of preserving National Park sites. This is a great way to ensure that you continue learning while on vacation. Most importantly this is a free program offered by the N.P.S.
To participate in this program be sure to pick up an activity book while at the visitor center.
Walk the Presidential Trail
The Presidential Trail is a paved half-mile loop. It starts at the Grand View Terrace and leads to assorted viewing areas along the base of the mountain.
This quick walk allows you a few moments to get away from the crowds at the Memorial, and may also offer views of the local wildlife.
Our Experience Traveling to Mount Rushmore in an RV
We stopped at Mount Rushmore after leaving Badlands National Park on our way west to Yellowstone. It is a quick hour and a half ride from Badlands N.P.
We traveled in our 24 foot RV and had no problems. The roads leading to Mout Rushmore are sharp and steep at times.
The ride through the Black Hills offers amazing views of untouched nature and wildlife. It is well worth the drive.
We arrived at the Memorial before lunch and spent a good two and a half hours here. Unfortunately, we were not able to view the evening lighting ceremony. So we will have to return in the future to experience this. We were fortunate to come across some of the local Rocky Mountain goats.
This bucket list item for many people is certainly worth the stop. Visit Mount Rushmore in an RV is certainly worth adding to your itinerary.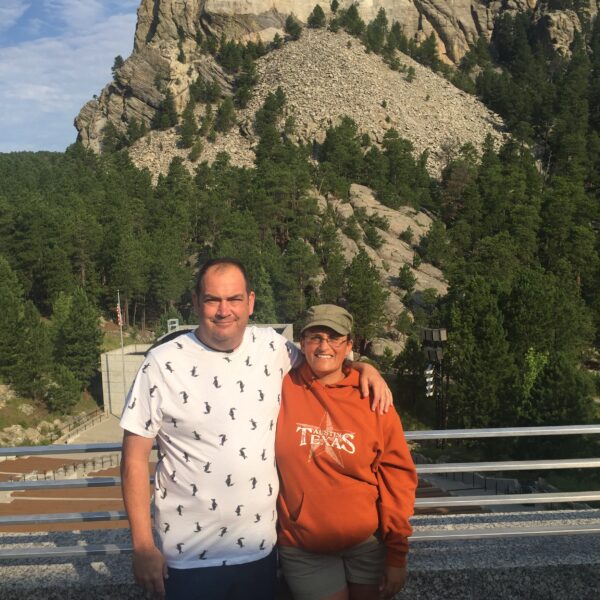 We love to hear from our followers. Please leave a comment below. 
Have you ever visited Mount Rushmore or the Black Hills? How was your experience? Do you have any tips for visiting this area?