We have camped at many National Parks across the country. Above all Badlands National Park camping is one of the most unforgettable.
Badlands National Park offers jaw-dropping views of towering rock formations, colorful spires, and the grassland prairies.
To truly appreciate, and experience Badlands National Park we recommend camping for a night or two. This will allow you time to experience what the park has to offer and relax under the cool dark night sky.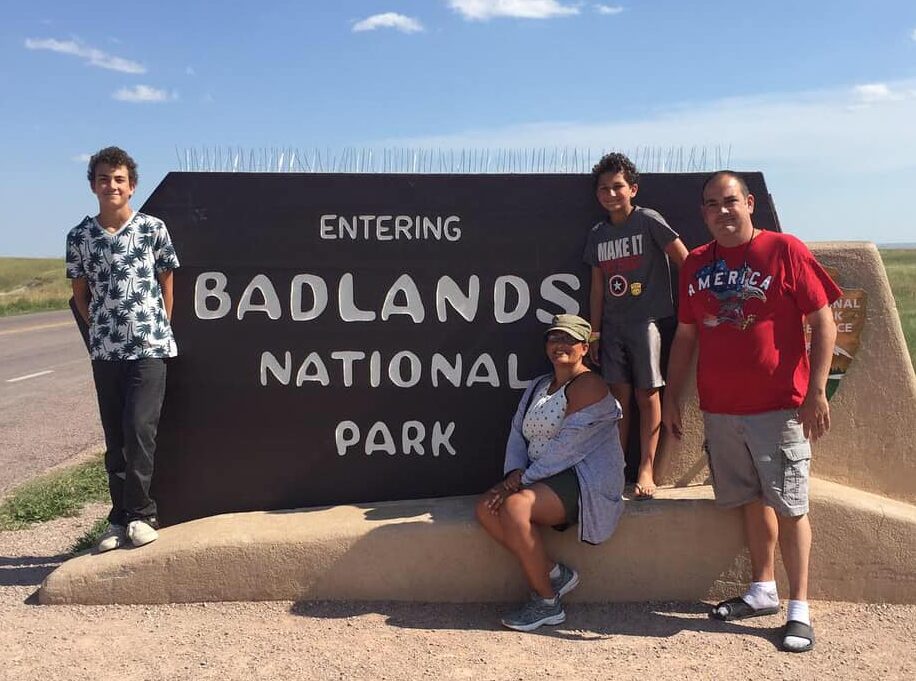 About Badlands National Park 
Badlands National Park is located in southwestern South Dakota. 

January 25, 1939, established as a National Monument by President Franklin D. Roosevelt. 

1963 a number of bison from Theodore Roosevelt National Park were released into the Badlands, and the number is now 1,000. 

November 10, 1978, Redesignated a National Park

The park protects 242,756 acres of eroded buttes and pinnacles, along with the largest undisturbed mixed grass prairie in the United States.

Approximately 1 Million people visit per year.
The  Lakota people of the area called this area mako sica, which literally translates to "badlands."
Cost to Visit 
Fees allow entry for seven days 
Private Vehicle 1-7 passengers – $30.00
Individual (Hiking, Bicycling, etc…) – $15.00
Motorcycle – $25.00

 

Badlands National Park Annual Pass – $50.00
America the Beautiful National Park Pass Members get in free.
Getting to the Badlands National Park
Traveling to Badlands is fairly simple. 
Interstate 90 is located directly north of the park and provides easy access to Hwy 240 aka the Badlands Loop Road.
 For those traveling west on I-90, take Exit 131 and follow the signs directing vehicles south approximately three miles to the Northeast Entrance.
For those traveling east on I-90, take Exit 110 at Wall, South Dakota. Follow signs directing vehicles south approximately seven miles to the Pinnacles Entrance.
Use the map below to find the areas we visited, and describe them. Click on the menu in the upper left corner to see each location. Click on the star to add it to your maps.
Cedar Pass Campground is inside of the park and operated by the National Park Service. Although it does accommodate Rvs it does not offer full hook-up service. The Rv sites provide electric service, but no water or septic hookups. 
Cedar Pass does offer easy access to the park's many features. We were able to leave our Rv at the site, and still enjoy most the park had to offer. From every campsite, at the Cedar Pass, the Badlands buttes and spires are on full display. 
Cedar Pass Campground features pay showers, flushing toilets, shaded picnic tables, and potable water. Within walking distance of the campground, the Cedar Pass Lodge and Restaurant welcomes all visitors and can provide a hot meal, and extra camping supplies.
Hiking & Rock Climbing | Kids Will Love It
We spent our time at Badlands hiking and climbing the rock structures. Badlands National Park has an open hike policy. Although there are numerous marked trails you are free to hike wherever it is safe to do so. This includes the rock formations and buttes. There is no restriction on where you can climb. 
The freedom to hike and climb was the highlight of the park for our children. We spent our first day just climbing the rock structures and going as high as we safely could. The second day was spent hiking a few marked trails throughout the park. 
We do recommend if you are looking for some great photo opportunities to follow the marked trails. Both the door trail and window trail offer amazing views of the rock formations. Both of them are less than half a mile and offer boardwalks to walk on. 
The Junior Ranger Program
If you are visiting Badlands with children we highly recommend the Junior Ranger program. You can learn more about this NPS program on our Junior Ranger Program post. To become a Junior Ranger you will need to grab an activity book at the Ben Reifel Visitor Center. This visitor center is a 5-minute walk from the Cedar Pass campground. 
The Junior Ranger Program is a great opportunity to learn about the park while exploring, and having fun. 
Don't Miss the Minuteman Missile National Historic Site | Right Next Door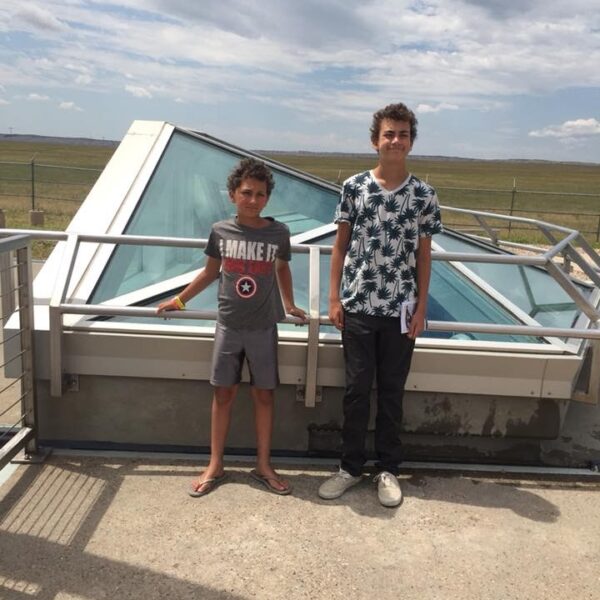 If you are planning to visit Badlands NP we recommend stopping in at the Minuteman Missile National Historic Site. The Minuteman Missile visitor center is only eight miles away from the Cedar Pass campground. 
Minuteman Missile contains three different sites that you can visit. In addition to the visitor center, you can visit one of the launch tubes with an inactive missile in it. The third site is the underground launch facility for the minuteman missiles. 
You will need to book a reservation to tour the launch facility ahead of time. We highly recommend visiting this site. It's an amazing first-hand look into the cold war and the missiles that keep the U.S. safe.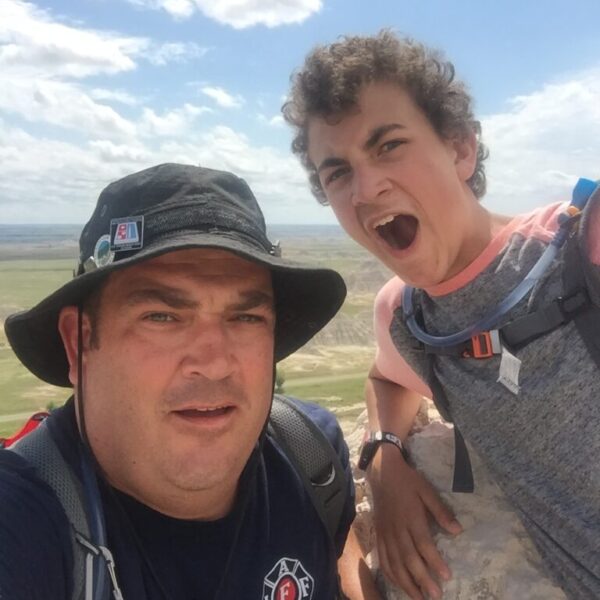 Our Amazing Badlands NP Experience
Our stay at Badlands NP was one of the most memorable stops in all our travels. When we first started west from Massachusetts for Yellowstone NP we had never heard of the Badlands. As we were driving along I90 in South Dakota our expectations were not that high for what we would find at Badlands NP. 
Our time there was ultimately filled with amazing adventures, and memories we will never forget. We climbed rock structures as high as possible. We witnessed an amazing night sky filled with stars. For the first time, and hopefully the last, we came across a rattlesnake while hiking. 
Although the Badlands looks like a barren land and is not easy to get to, it is high on our list of recommendations. For our small family, it was an incredible, once in lifetime, camping trip.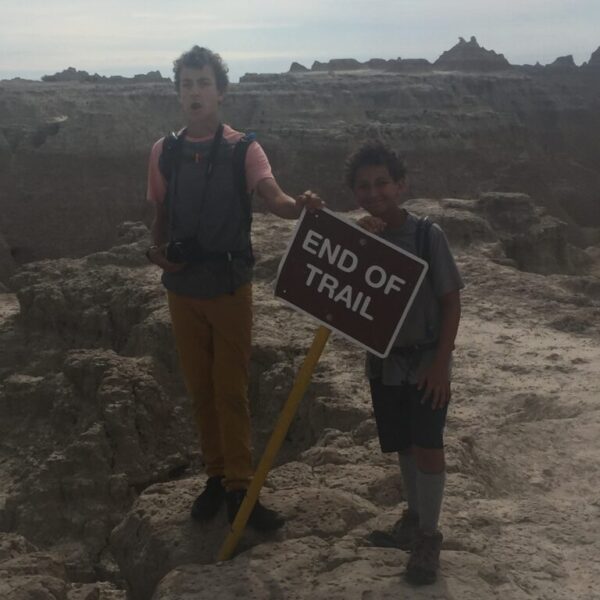 We love to hear from our followers. Be sure to leave a comment below. 
Have you ever visited the Badlands National Park? If so, what was your favorite part? Is there more you would like to know about this amazing Park?