If you travel the highways across America you can't miss the iconic brown National Park signs. This is due to the NPS overseeing 423 sites. As we traveled I-80 towards Yellowstone N.P. we came across the signs for the Herbert Hoover NHS. A large amount of our National Park visits have been related to Presidential History so we couldn't resist stopping.
Take exit 254 off Interstate 80 to West Branch, Iowa.
The Visitor Center is 0.3 miles north of Interstate 80. If you are traveling I80 this is an easy, quick stop.
In 1874 Herbert Hoover was born Wets branch, Iowa. This NHS helps protect the small cottage he was born in. Hoover only lived in the cabin for the first three years of his life. After leaving he never returned to live there again. However,  in 1935 Hoover, along with his wife Lou Henry, purchased the old cabin and restored it.
At this location, you will find three different places. You will find the Herbert Hoover National Historic Site (free), the Herbery Hoover Presidential Library (free), and the Herbert Hoover Museum (small fee required).
Admittedly, none of us knew a tremendous amount about President Hoover. Thankfully, this site is very kid-friendly and easily accessible. After only spending a few hours here we had learned all about the 31st President of the United States.
National Park Service Visitor Center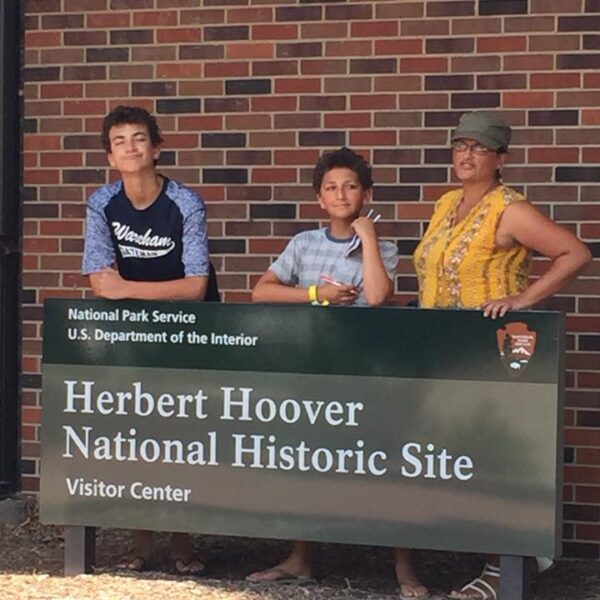 As with any National Park Service site we recommend starting at the Visitor Center. 
Here you can Pick up the official National Park map and guide, stamp your Passport, and find the activity books to become Junior Rangers. 
Although a relatively small visitor center is was extremely kid-friendly. Therefore, were very impressed with how much it catered to kids even though it was small. In addition, the Park Ranger on duty that day took some extra time to explain to us a few things we would have missed on our own. 
Take the Self Guided Tour
The visitor center offers information for the self-guided tour. In addition, there is an app you can download. There are a number of stops that are well worth the time. 
Herbert and Lou Hoovers Gravesite
When he died on October 20, 1964, the 31st President was laid to rest in this quiet, grassy hillside. His wife was Lou's gravesite is right next to his. It's hard to fully describe this spot. It is a very large area with a wall of arborvitaes and smaller bushes. The graves themselves are two large marble slabs and a flagpole stands in the center of the courtyard.
Birthplace Cottage
Herbert and his wife Lou helped restore the president's birthplace. Hoover referred to it as proof of the opportunities of American life. The cottage is a typical late 19th-century home. In addition, the furnishings represent common household items of a rural Iowa home.
Blacksmith Shop
Hoover's father Jesse owned and operated a blacksmith shop from 1871 to 1878. However, the blacksmith shop on site was built in 1957. It is based on sketches from Herbert's older brother.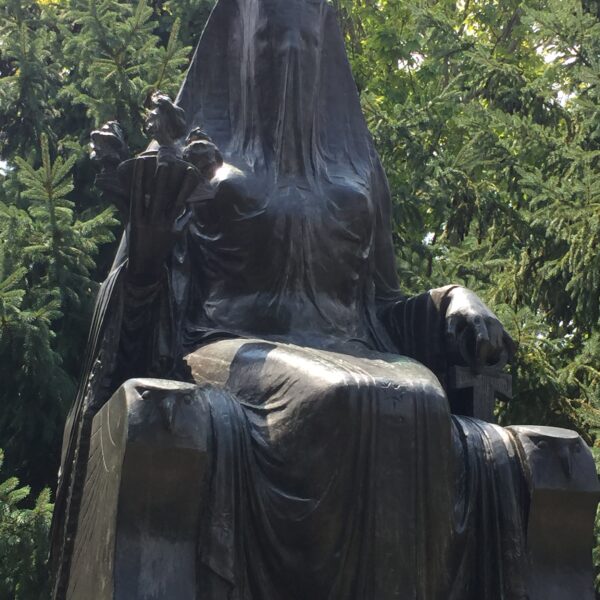 The Statue of Isis
This bronze statue was a gift from the people of Belgium. It was given in honor of  Hoover's famine relief efforts during the First World War.
In the sculpture, Isis is wearing a veil. This is a symbol of the mysteries of life. In her right hand is the torch of life. The three flames represent the past, present, and future. In her left hand is the key of life. The ancient Egyptian goddess and the 31st American President are an unlikely pairing. However, it provides a powerful link between Hoover's childhood and his life's dedication to the welfare of others.
Participate in the Junior Ranger Program
When visiting the National Park Service site with kids this program is a must. You can learn more about this great program on our Junior Ranger Program post. 
Be sure to get your Jr. Ranger book at the visitor center. In addition, you can download it on the Herbert Hoover NHS website. 
This activity booklet will help you explore the entire NHS. In addition, you will learn all about Herbert Hoover's life, and his contributions to the Country. 
The NPS makes learning Presidnertail history an enjoyable experience. This was the first Presidential site we visited. Since we have visited 7 different sites related to Abraham Lincoln, the monuments on the National Mall, George Washington's Mount Vernon, and the Adams National Historical Park.
We love to hear from our followers. Please leave a comment below. 
Have you visited any Presidential sites? Do you have a favorite Presidential historical site you would recommend? Have you visited Herbert Hoover NHS?