The city of St. Louis offers a number of family-friendly destinations. Of course, we knew that we wanted to spend some time visiting the Gateway Arch National Park. However, we were unsure what to do with our second day in this great city. After asking around the RV park for kid-friendly activities we learned of the City Museum of St Louis.
More than one person told us that we MUST visit the city museum, and they were not wrong. This was a memorable stop, and we highly recommend spending some time here while in St. Louis. It's a great family destination that can be enjoyed by adults as well as children. This is truly a unique museum like no other. 
750 North 16th Street St. Louis, MO. Located only 1.5 miles from the Gateway Arch National Park the museum is easy to add to your itinerary. The City Museum can be accessed from a number of different directions. You can click here to find directions from the North, East, South, or West.
City Museum Facts 
1993 Artists Bob and Gail Cassilly acquired a 10-story 600,000 square foot former shoe company warehouse in Downtown St. Louis.
Their vision was to transform the building into "a city within a city."
The Museum is a mixture of a children's playground, and fun house made out of found and repurposed objects.
Opened on 1997
The roof top is open to the public, and houses a small old-fashioned Ferris wheel in addition to a school bus that extends past the edge of the building.
Houses a 10 story spiral slide within the building
Tips to Make Your Day Enjoyable
Bring a few bucks in cash to park. It's cheap & worth every penny. The parking is across the street and a quick walk

Write your phone number on your child's wristband in case they get lost! The Museum is large, with a lot of hidden passages. It is reasonable to believe you may get separated from your kids. 

Bring sure to bring money for food & drinks.  Unfortunately, you can NOT bring food from outside. 

Wear sneakers and shoes that won't fall off when climbing! We do not recommend wearing sandals! 
Must Do Things at  City Museum St Louis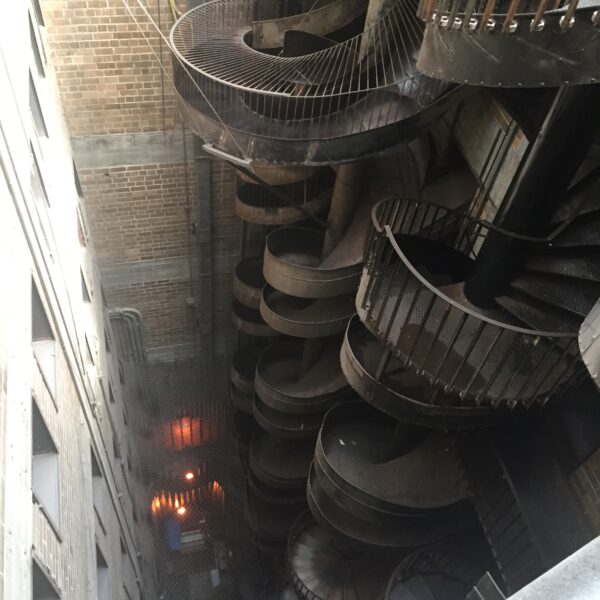 10 Story Slides 
Yes, you read that correctly! The City Museum houses amazing 10-story slides!
Sliding down 10 floors might sound scary. However, it's nothing to be afraid of. They re-purposed and reinforced old factory shoots to become a slide. It's completely enclosed and winds down like a corkscrew the whole 10 stories. You're just winding for a REALLY long time.
However, be aware there is no elevator so yes you must climb the stairs all the way up! Fortunately,  there is a secret door near the café on the 4th floor you can crawl through to help take out a few flights! Otherwise, you will have to go through the caves to get to the slides. 
These spiral slides may be intimidating at first, but the ride is well worth it!
Enjoy the Outside Rooftop Exhibits
There are two things you will immediately notice upon entering the museum. It is filled with slides and tunnels. Of course, these are not all contained inside the museum!
One of the biggest attractions is its outdoor, rooftop, and playground. The rooftop of the museum has an outdoor café, a ball pit for the kids, a Ferris wheel, and a school bus hanging over the side of the museum that you can crawl around in.
There is enough outside on the rooftop to do that you could make a day just out of laying outside at the City Museum.
This attraction costs a few extra dollars but is sure to be worth the cost.
Eat, Drink, and Laugh 
The City Museum does not allow outside food or drink indies. However, plenty of options can help curb your hunger or thirst while burning calories at the museum. 
There are seven different food and drink locations throughout the museum and outdoor dining on the rooftop. 
The food and drink locations offer everything from pizza and hamburgers to sandwiches and salads. Of course, the typical carnival-type food is also available throughout the museum. 
For the adults in the group, four of the locations offer full bar service and non-alcoholic beverages.
The City Museum is a great place for families of all sizes. Of course, we visited because we were looking for something to do with our children. 
However, shortly after entering it became clear this place was for kids of ALL ages. Yes, even the grown-ups! Many parents have been to indoor playgrounds where the adults sit around together, while the kids stay entertained. This was just the opposite here. People of all ages were laughing, and enjoying what the museum had to offer. 
Our City Museum St Louis Experience 
Our stop in St. Louis was a two-night stopover on our way home from Yellowstone National Park. We had never heard of the City Museum prior to arriving in St. Louis.
We spent the morning at the Gateway Arch N.P, and the afternoon at the City Museum. To say we had a blast at the museum is an understatement.
This is a truly unique location like no other. Of course, when you first hear museums ancient paintings, and sculptures come to mind. This museum if a completely interactive location with enough to keep the entire family, even the grow-ups, busy for the entire day.
Unfortunately for us, the roof top was not open while we were there due to some bad weather. However, it looks like an amazing time, and we will be sure to return someday to enjoy it.
If you are planning on visiting St. Louis we highly recommend adding the unique stop to your itinerary.
We love to hear from our followers. Be sure to leave a comment below. 
Have you ever visited the City Museum of St Louis? How was your experience? Do you have any tips for visiting this great destination?