Niagara Falls is one of the most iconic waterfalls in all of the world. Therefore, we believe every RV family should put Rv camping near Niagara Falls on their bucket list. We decided to check Niagara Falls off our bucket list during our cross-country trip to Yellowstone National Park.
New York and Ontario both offer views of these awesome falls. While researching our trip we knew we wanted the best view, and that this may be our only chance to see them. We learned that many people believe the best views are from the Canadian side. Therefore, we choose to head to Canada.
Of course, there is some needed preparation when crossing the international border into Canada. Here we will help you plan for the border crossing, review the RV campground we stayed at, and help you plan for an amazing trip to Niagara Falls, Canada.
The easiest way to get to Niagara Falls by RV is through New York. 
When we left we did travel through Canada and re-entered through Detroit. This is also an option if coming from the west. However, we recommend staying on I90 from the west. This will bring you right to the bridges between Canada and New York. 
There are three bridges available to cross into Canada when arriving from New York. They include the Peace Bridge, Queenston Lewiston Bridge, or directly into Niagara Falls via Rainbow Bridge. There is a limited fee for using these bridges to enter Canada. 
Use the map below to see the places we visited, and discuss. Click the tab on the top left to see the locations, and click the star to add this map to your maps.
Here we share the process we used to enter Canada and re-enter the United States. However, these requirements are known to change. Prior to entering Canada make sure to check the  Canadian Border Services Agency website. 
Since June 1, 2009 citizens of the United States are required to have proper identification to enter Canada. Therefore, if planning on driving to Canada to go Rv camping near Niagara Falls you need to plan ahead. 
Of course, the traditional passport is the gold standard for international travel identification. 
Since we were just traveling by land we were able to use a Passport Card. This form of identification is valid for travel to Canada, Mexico, and the Caribbean. It is the size of a credit card and easily fits in a wallet. 
Crossing the Rainbow Bridge Into Canada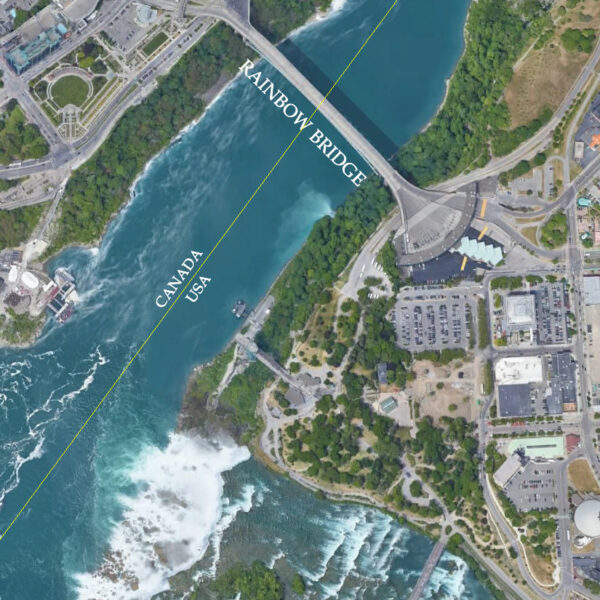 We entered through the Rainbow Bridge. It was an extremely easy, and straightforward process. 
There is a small roundtrip fee of $4.00, which is collected leaving the United States. Crossing over, and entering Canada, was as simple as traveling through a toll booth. We stopped quickly, they checked our passport cards and waved us through. It was more simple than our return entry into the United States. 
Niagara Falls KOA Holiday, Ontario Review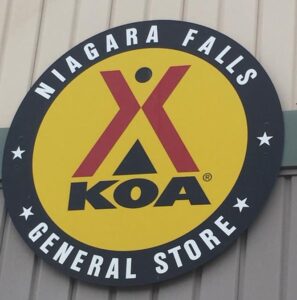 The Niagara Falls KOA offered great Rv camping near Niagara Falls. We stayed here for three nights and were very pleased. 
One of the issues we often face is the fact that we don't tow a vehicle. Therefore, we either have to leave the campground in the RV or rely on other transportation. Fortunately, there is a public bus stop directly across the street from the campground entrance. Passes can be purchased at the KOA, and it is a quick 3 miles to the Falls visitor area. 
If you are looking to view these awesome waterfalls from the Canadian side we highly recommend this KOA. It is a great KOA with easy access to the Falls.
Niagara Falls KOA Amenities
Big Rig Friendly 50 amp Pull-Thrus

Deluxe Cabins

Fun Cycle Rentals

Fully Stocked Camp Store with food/snacks and beverages

Horseshoes

Jumping Pillow

On-Site Pub

Public Transportation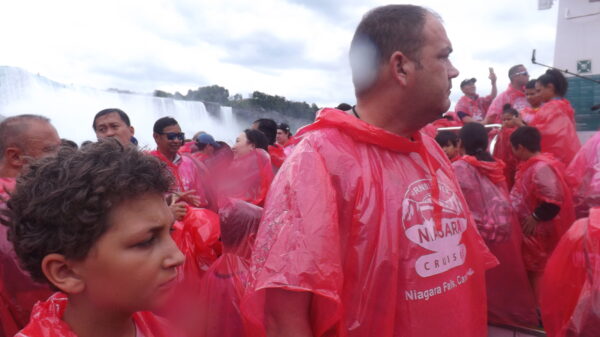 RV camping near Niagara Falls wouldn't be complete without the iconic boat tour up to the base of the Falls. From the Canadian side, we took the Voyage to the Falls boat tour by Niaga City Cruises.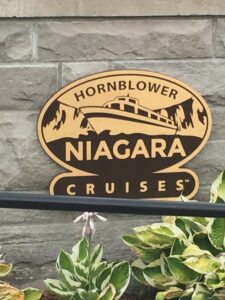 This is a  20-minute boat trip to the Falls boat tour and is a journey of a lifetime. You will see the stunning views of the Niagara Gorge, American Falls, and Bridal Veil Falls. In addition, you will come face-to-face with the famous Canadian Horseshoe Falls. This ride will not let you down. We were able to feel the thundering roar, awesome power, and amazing mist from the Falls. You don't have to worry about getting wet either because a protective recyclable poncho is provided.
If you only do one thing while visiting Niagra Falls this boat tour should be it.
Our Rv Camping Near Niagara Falls Experience 
We were fortunate to be able to visit this bucket list location while traveling west to Yellowstone National Park. 
It was a quick, three-night stay at the Niagara Falls KOA. Since we don't tow a car this was the perfect place for us. You get everything you expect from a KOA RV park, and transportation to the falls is easily accessed. 
Of course, pictures don't do Niagara Falls any justice. Viewing them from the walkway is one thing. To be able to get aboard a boat, and travel to the base of the falls is awe-inspiring.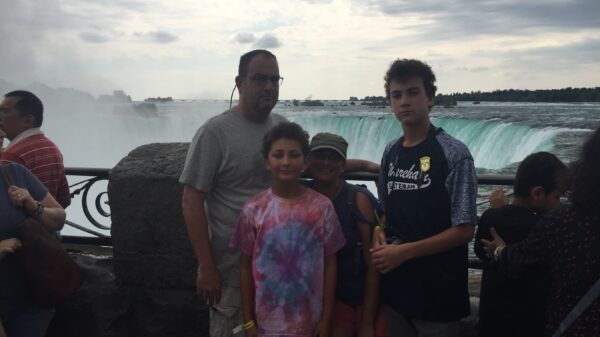 We love to hear from our followers. Please leave a comment below. 
Have you ever visited Niagara Falls? Did you take the boat tour? Do you have any additional tips for visiting this amazing location?