RV camping in Yellowstone is a magical experience. Millions of people visit yearly to view its unique geothermal features, colorful springs, roiling geysers, and mud pots. In addition, Yellowstone offers rivers, waterfalls, mountains, and famous wildlife. 
However, it does take some planning. We've put together this guide to help you plan for an amazing trip to Yellowstone. 
You can learn more about our RV trip from Massachusetts to Yellowstone on our Yellowstone RV trip page.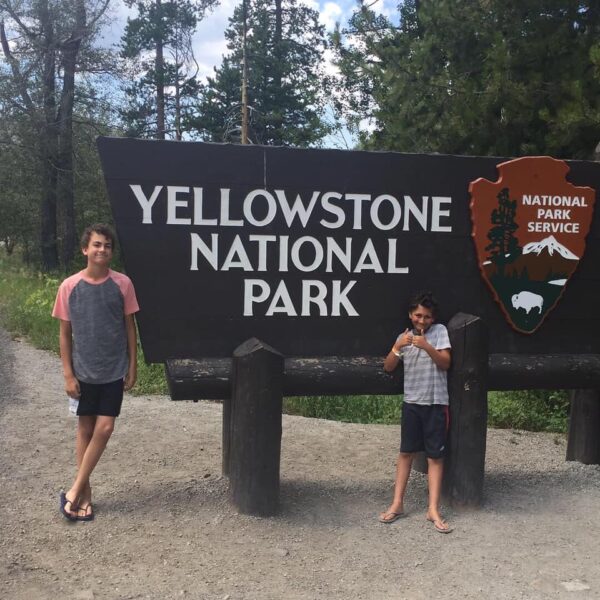 Yellowstone N.P. Facts
Yellowstone became the first national park on March 1, 1872

The National Park encompasses 3,472 square miles making it larger than Rhode Island and Delaware combined.

There are more than 10,000 hydrothermal features in Yellowstone including geysers, hot springs, mud pots, and fumaroles

Yellowstone is home to the largest concentration of mammals in the lower 48 states including wild bears, and bison.

There are approximately 1,000 miles of hiking trails

The park has a total of

Eleven visitor centers, museums, and contact stations

Yellowstone National Park has 12 campgrounds with over 2,000 sites.
Getting to Yellowstone in an RV
.Yellowstone is larger than the state of Rhode Island. Due to its size, there are numerous entrances.
There are five entrance points: north, south, west, east, and northeast.
All five of the entrances have their challenges for RV drivers. However, the only one that big rigs are not recommended on is the northeast entrance. This route goes through the Beartooth Mountains. We entered from the east on US Highway 14 with no issues in our RV.
North Entrance – thru Gardiner, Montana. This is the original entrance to the park and has the Roosevelt Arch entryway.
Northeast Entrance – thru the Beartooth Mountains.
East Entrance – thru Cody, Wyoming.
South Entrance – thru Grand Teton National Park via the John Rockfeller Memorial Highway.
West Entrance – thru the town of West Yellowstone, Montana.
RV Camping in Yellowstone National Park
Yellowstone offers 12 campgrounds with over 2,000 sites. Fortunately, RVs are welcome at all campgrounds within Yellowstone. However, there are size restrictions so it is important to review the campground first.
Five of the campgrounds in Yellowstone National Park require reservations. They include Bridge Bay, Canyon, Fishing Bridge, Grant, and Madison. You can reserve any of these campsites through Yellowstone National Park Lodges.
The Fishing Bridge R.V. park is the only campground in Yellowstone to offer water, sewer, and electrical hookups. Because grizzly bears frequent the area, no tents or tent campers are allowed.
We stayed at both Fishing Bridge and the Grant Village campground.
The Fishing Bridge RV Park is located near the Yellowstone River where it exits Yellowstone Lake on its way toward the Grand Canyon of the Yellowstone.
There is nothing fancy about this park. It is a basic RV park with tightly spaced sites and few amenities. However, its biggest draw is that it is the only campground with RV hookups in Yellowstone.
In addition, it is located in a great central location within the park. Although you are in an RV, with full hookups, you can't forget you are camping in the wilderness of Yellowstone.
Fishing Bridge General Store
The Fishing Bridge General Store was built in 1931. The store is located a quarter of a mile from the RV park entrance. This general store has groceries, ice cream, souvenirs, and apparel available for purchase. There is also a sit-down restaurant inside that serves burgers and sandwiches.
Fishing Bridge Visitor Center and Trailside Museum
The Fishing Bridge Museum and Visitor Center are located one mile off Grand Loop Road on East Entrance Road. You can find it ½ mile from the RV park entrance.
The distinctive stone-and-log architecture of this old building was one of several prototypes for park buildings around the country. The visitor center and museum highlight the ecology of Yellowstone Lake, focusing on birds.
You can also visit with a ranger and find out when ranger programs are scheduled, buy a fishing permit, pick up a souvenir, or take in some truly stunning views of Yellowstone Lake and the surrounding mountains.
The Grant Campground is located in Grant Village, just off the Grand Loop Road at the south end of Yellowstone Lake. It is one of the larger campgrounds in the park. There are over 400 sites at the campground, including tent, RV, and combination tent/RV sites.
If RVing be aware that sites that will accommodate a maximum combined length of 40-feet or more are limited. There are no utility hook-ups at this campground, although an RV dump station is available.
Conclusion 
As you can see by the map below Yellowstone offers many camping opportunities. However, we only review places we have visited and can answer questions about. Hence the reason we only reviewed Fishing Bridge, and Grant Village.
Regardless of where you stay, it is important to realize how massive Yellowstone is. If you are not prepared prior to arrival you could easily become overwhelmed.
We love to hear from our followers. Please leave a comment below. 
Have you camped at Yellowstone? Have you visited Yellowstone? Do you have any tips for camping in Yellowstone?