We believe everybody needs to visit Yellowstone National Park at least once in their life. Of course, it would be impossible to pack everything into a single week or during one epic road trip. There is literally a lifetime of things to do and see in Yellowstone. Therefore, we put together our list of the top 5 things to do in Yellowstone N.P.
Of course, this is not a complete list of things you can do in Yellowstone. It would truly be impossible to create such a list. To learn more about road-tripping to Yellowstone check out our Roadtrip to Yellowstone page.
Location of the top 5 things to do in Yellowstone
Best Things To Do In Yellowstone N.P.  
1. View the Grand Prismatic Spring 
The Grand Prismatic Spring is an unforgettable stop in Yellowstone. Grand Prismatic Spring is the third largest hot spring on the planet. It is well-known for its bright and vivid colors, namely blue, green, yellow, orange, and red.
This may be the most photographed hot spring inside the national park. People are amazed by its colossal size and jaw-dropping beauty, which comes alive with a rainbow of colors because of heat-loving bacteria that make its water their home.
The spring is located just a few minutes from the parking location. Once you reach the spring there is a wooden boardwalk that wraps around the springs. This offers up close, amazing views of the Grand Prismatic Spring.
Grand Prismatic Spring is located in the western part of the park. It is found roughly seven miles north of the Old Faithful geyser basin. Therefore, we recommend visiting these two locations on the same day.
2. Visit The Old Faithful Geyser.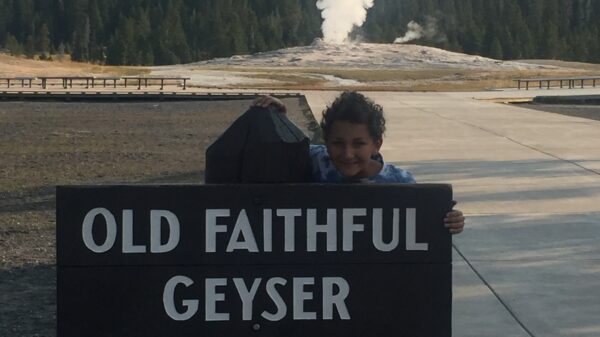 No trip to Yellowstone would be complete without visiting Old Faithful. Old Faithful is probably the most famous geyser in the world. Old Faithful is extremely predictable and erupts every 35 to 120 minutes. It can vary in height from 106 to 184 feet with eruptions lasting anywhere from 1.5 to 5 minutes. Water temperatures can reach 204 degrees and the steam can reach 350 degrees F.  When visiting Yellowstone you must stop by and see Old Faithful do its thing.
The Old Faithful geyser is located in the Upper Geyser Basin. It is easily found near the Old Faithful Inn and Old Faithful Visitors Center. You will have to park in the designated parking near the Old Faithful Inn. However, it is just a short walk to the visitor center and the geyser.
There is a large viewing platform around Old Faithful. However, we visited in August and the seating was full. Thankfully the geyser erupts one a predictable pattern, and you can get there early in order to secure a seat. We also strongly urge you to spend some time in the Old Faithful visitor center.  
3. Take Time To View Yellowstone's Wildlife.
Yellowstone's abundant and diverse wildlife is just as famous as its geysers. Yellowstone National Park has the largest concentration of wildlife in the lower 48 states. The wildlife that visitors want to see the most includes Bears, Wolves, Moose, Elk, Bison, Badgers, Otters, and Fox. In addition, if you keep your eyes to the sky it is very possible to see a Bald Eagle soaring overhead.
When visiting Yellowstone there are two large valleys that offer large landscapes to view Yellowstone's diverse wildlife.
Lamar Valley can be reached from any Yellowstone Park entrance. However, the best way to get there is from the northeast entrance gate near Cooke City, Montana. This offers the shortest drive inside of the park. If you drive west on Northeast Entrance Road you'll enter Lamar Valley after approximately 10 miles.
This area offers amazing views of wildlife. We saw large numbers of Bison, Elk, and Pronghorn in the time that we visited. Lamar Valley is further away from the central Yellowstone attractions than Hayden Valley. However, it is also less visited and therefore easier to park and spend time viewing the area.
The Hayden Valley is centrally located in Yellowstone National Park, is the first place many go to see wildlife in Yellowstone. As you drive along this amazing valley you are likely to see herds of bison, scattered elk, and the occasional grizzly bear. Fortunately, there are a number of roadside turnouts along the Hayden Valley, offering views on both sides of the road. You can park and wander along the valley getting amazing views of wildlife, the Yellowstone River, and amazing untouched nature.
When you are viewing wildlife it is important to remember to keep your distance. You are the visitor to the Park and don't want to disrupt the wildlife habitat or activities. The recommendation is to keep 100 yards from bears and wolves, 25 yards from all other animals including bison. 
4. Experience the Grand Canyon of Yellowstone
Located in the Canyon Village, the Grand Canyon of the Yellowstone is the first large canyon along the Yellowstone River. In addition, it is the longest undammed river in the United States. The Canyon runs 24 miles long, is 800 and 1200 feet deep, and spans .25 to .75 miles across. It's huge!
Be sure to find the right spot and you can view Lower Falls as it plummets 308 feet or Upper Falls as it tumbles 109 feet. The canyon walls are marked in yellow, red, white, and pink colors making it a stunning location.
There are a number of hiking trails all along the canyon. Each offers stunning views of the river, canyons, and waterfalls. Many can be accessed by paved footpaths from some of the many parking areas all along the canyon.
5. Participate in the Y.N.P. Junior Ranger Program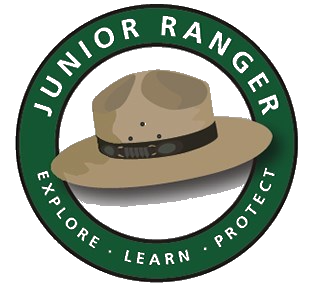 As self-proclaimed National Park Geeks, we love the National Park Services Junior Ranger Program. This is a great way to learn all about the site you are visiting. All of the NPS 423 sites offer this free program. 
The Junior Ranger program is a way to introduce children—and those young at heart—to the natural wonders of Yellowstone.  
Full-color activity booklets are available at visitor centers in the park for $ 5.00. 
After completing the age-appropriate requirements described inside the booklet and reviewing their work with a ranger at any visitor center, participants are awarded an official Yellowstone Junior Ranger patch. Modeled after the National Park Service patch, Junior Ranger patches are shaped like an arrowhead and feature a geyser for 4-7-year-olds, a grizzly bear for 8-12-year-olds, and a bison for those aged 13 to 113 years.
Requirements include attending a Ranger-led program, hiking on a park trail or boardwalk, and completing activities in the booklet to learn more about park resources, issues, and concepts such as geothermal geology, wildlife, and fire ecology. Both children and adults benefit by learning more about the park and sharing the fun of becoming a Junior Ranger.
Conclusion 
This is not an exclusive list of things to do at Yellowstone. Since Yellowstone covers over 3,500 square miles it would take a lifetime to see everything. However, most visitors only have the opportunity to visit once in a lifetime.
If you are planning your trip to Yellowstone we highly recommend adding these 5 activities to your itinerary. Of course, there are plenty of other things to do and see during your stay. However, we believe these 5 things should be on the top of your list. View our Yellowstone Cross Country trip page to learn more about traveling cross-country to Yellowstone National park.
We love to hear from our followers. Please leave a comment below. 
Have you visited Yellowstone N.P. ? How was your experience? Do you have other tips, or things to do, while visiting Yellowstone?