We are often asked are KOA campgrounds worth it and if we would recommend them. 
If you have traveled in an RV for any time, you have more than likely seen the yellow KOA signs. These campgrounds are best known for their friendly and helpful staff and diverse camping sites. They offer full hook-up sites for RVs, tent sites, and even small cabins. 
After staying at over two dozen KOA campgrounds all over the country, we have put together this guide and show why we love the KOA campgrounds!
About KOA Campgrounds
KOA is the world's largest group of privately-owned campgrounds. Currently, there are more than 500 KOA locations. This makes finding one relatively easy. 
Although they are all held to the KOA standard, it is essential to understand the three-tier KOA system. 
KOA Journey: These locations are often located near highways. This makes them quickly found after a long day on the road. They are a primary option, will simple amenities. 
KOA Holiday: If you want to set up camp and explore, these campgrounds are perfect. They are also great for weekend getaways. There is always plenty to do at these KOAs, with amenities and services to make your stay easy. 
KOA Resorts: KOA Resorts are at the top of the KOA list. They offer a carefree vacation getaway. KOA Resorts have an abundance of activities led by dedicated recreation staff, on-site food service, group meeting space, and so much more. KOA Resorts are a full-service vacation destination – all in one place.
1. Easy to Find and Reservations are Simple
Finding a KOA is easily done online. This makes the planning process a little easier. Just go to  Koa.com/find-a-koa and use their map to discover locations. Simply click the state you are planning on visiting, or driving through. You'll see a list of campgrounds in the state. In addition, the reservation process can be done at the same time online. In our opinion, this is one reason we believe KOA campgrounds are worth it. 
2. Most are Clean and Well Maintained
Allthough they are privately owned they all follow the same KOA standard. We have found that allthough they are all different they have similarities. Most of the KOA campgrounds we visit are clean and well kept. 
3. Convenient for Parents and Pet Owners
This is an important aspect when traveling with families. We have found that almost every KOA is kid-friendly. Most KOA campgrounds include activities planned for the kids, swimming pools, and playgrounds.  Our favorite attraction is the giant jumping pillow. In addition, the majority have a pet play area where you can let your dog off the leash and also have some free time. 
4. Located Near Many Attractions and Parks 
KOA campgrounds are easy to find, and there is almost always one close to any big attractions. Some KOAs even run daily shuttles or partner with local tour providers to show campers all the best local spots. Many bucket list attractions such as Yellowstone, Grand Canyon, and Disney World have KOA campgrounds nearby. KOA campground makes visiting these amazing attractions a little bit easier. This often ensures that koa campgrounds worth it.
1. Can Be Noisy and Busy 
If you are looking for a quiet weekend getaway KOA may not be what you are looking for. Since they are kids, and parents, friendly there is the possibility of them being busy, and not exactly quiet. However, if you are looking for a fun family getaway they are great. If you are looking for a quiet, peaceful getaway KOA may not be the best.
2. Not ALL are well maintained 
As mentioned above almost all of them are very clean, and well maintained. However,  having visited many KOA campgrounds all across the country we have learned they are not all that way. It has been our experience that the KOA journeys are not as well maintained. However, the journey campgrounds are not necessarily meant for long-term stays. 
3. Not Much Privacy 
In our experience, the RV sites at the KOA's are really close to each other. There is not a tremendous amount of privacy. If you are looking for sites separated by trees, and some distance, KOA may not be the place for you. Fortunately, we have had great experiences and the lack of privacy has not been a huge issue. 
4. The Cost  
This is often the top issue we hear about regarding KOA campgrounds. Sites at KOAs on average cost between $40 – $80 per night. The average cost is around $56 per night. Of course, this cost may increase with the number of guests, the size of the RV, and other requirements. This is certainly more than the average state park. However, with a KOA you know what you are getting, and the world hard to offer a fun experience.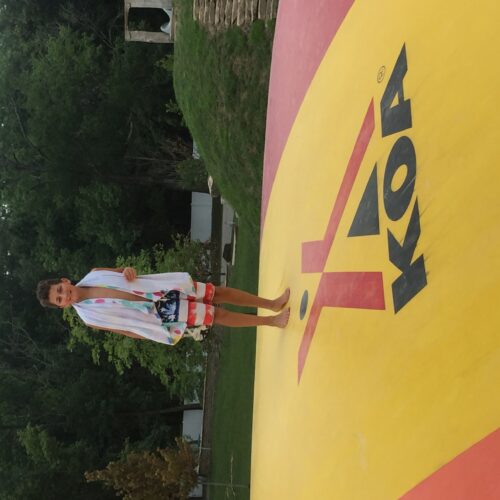 The map above shares all od the KOA campgrounds we have stayed at. 
The first KOA we ever stayed at was the Nashville East / Lebanon KOA Journey on our way to the Grand Canyon N.P. On the same trip, we stayed at several private campgrounds. Some are nice, and some are not really nice at all. On our second cross-country trip to Yellowstone, we added several KOAs to our trip and were pleased with what they offered. 
Yes, the KOAs cost a little bit more money. However, our overall experience with KOA has been positive. We know, for the most part, what we are getting consistently. In addition, to traveling with kids, we are confident that KOAs will have plenty to offer to keep them entertained. Especially after a long day of driving. 
Fortunately, for RV-traveling families, there are thousands of camping opportunities. Whether it is a KOA, State Park, National Park, or RV Park, the options are almost limitless. If you travel long distances with kids, we recommend adding the KOAs to your trip plans. We do not doubt that koa campgrounds worth it.
We love to hear from our followers. Please leave a comment below. 
Have you stayed at a KOA campground? What has your experience with KOA been? Do you have any KOA campgrounds you would recommend?