Our time at the Nashville East Lebanon KOA Journey was short. This was a quick one-night stopover for us as we traveled to the Grand Canyon National Park. Although we only stayed for one night we had a pleasant time and would recommend this park to others.
When stopping at KOA campgrounds it is important to understand how the campgrounds are rated. The Nashville East Lebanon campground is a KOA Journey. These parks are often located near highways. This makes them easily found after a long day on the road. This makes them the perfect location for a one-night stopover. You can learn more about the different KOAs on our KOA Campgrounds blog post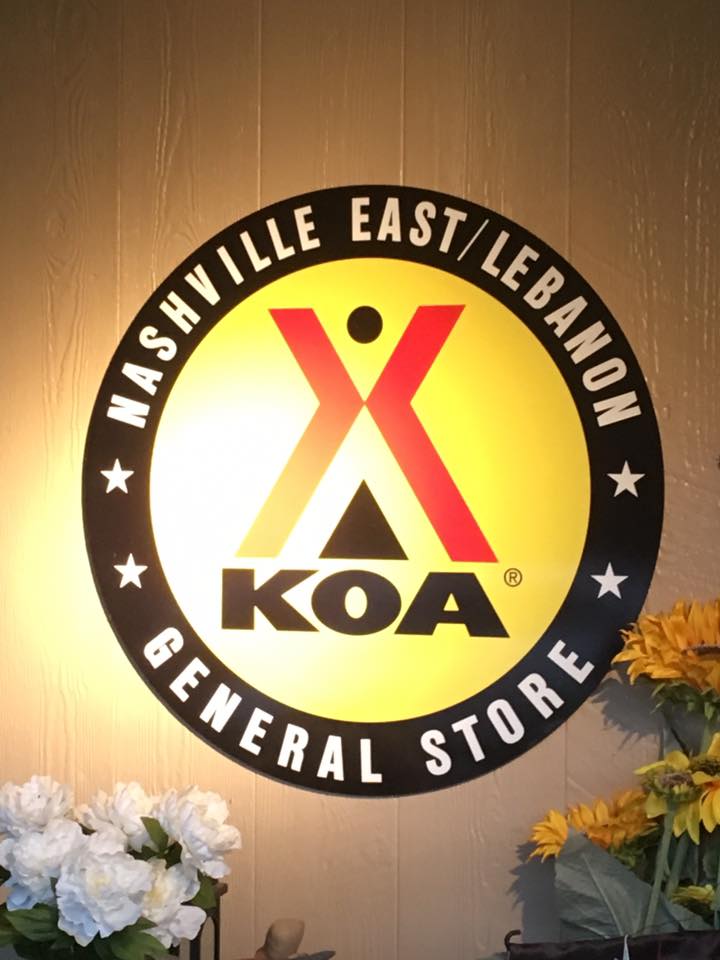 Nashville East Lebanon KOA Location
2100 Safari Camp Rd, Lebanon, TN
Located only 26 miles west of Nashville the KOA is easily accessible from I40
From I-40 eastbound: Take exit 232A SR-109. Immediately get into the left lane and turn onto Safari Camp Road just after the on-ramp. The campground is two miles down the road.
From I-40 westbound: Take exit 232 SR-109. Turn left and go over the interstate. Take the second left, Safari Camp Road. The campground is two miles down the road.
From I-840: Take exit 72B Central Pike/SR 265. Go 3.6 miles and turn right onto Safari Camp Road. The campground is two miles down the road.
Full RV Hookups with 50amp max
90 Foot Max Length Sites
Swimming Pool
24-Hour Laundry Facilities
Playground
Small Camp Store
As a KOA Journey, the Nashville East Lebanon KOA only offers a few amenities. The Journey campgrounds are often found along the highways and are meant as a place to stop and rest for the short term.
This KOA has enough amenities to help you sit back, and relax before hitting the road again. Click here for their easy reservation process.
The park is a short drive from downtown Nashville. The hilltop views and shaded canopy of trees create a beautiful atmosphere. This location is excellent for those who want to be close to the city but still able to enjoy the peacefulness of the country.
Our site was clean and level. In addition, we had a small picnic table, and a fire ring as well. The staff on-site was extremely helpful and kind. Of course, the pool was a big hit after a long day of driving.
There was no cable T.V. available. However, we were able to pick up a number of local channels over the air.
The store was small. However, it offered everything we needed for our stay. In addition to camping supplies, you can grab some Tennessee or Nashville souvenirs inside.
Interstate 40 is visible from the entrance to the campground. However, the sites are set back far enough that the highway noise is not a problem.
Our Experience
We arrived in the early afternoon after driving from Fort Chiswell, Virginia. The check-in was simple, and the staff was more than helpful. Our site was easily accessible. In addition, it was a pull-through site. It's always a little easier when you don't have to back in!
There was one unique thing that happened to us. As we were sitting down for dinner we were visited by a number of free-range chickens. Fortunately, they didn't bother us. However, we were having chicken for dinner ourselves that night. So of course the kids got a kick out of this!
In conclusion, we would recommend the Nashville East Lebanon KOA if traveling along I-40 and looking for a place to set up for the night.
We love hearing from our followers. Please leave a comment below. 
Have you ever visited the Nashville East Lebanon KOA? How was your experience?