A New Orleans Rv camping trip is a great way to experience New Orleans French Quarter. However, taking your Rv into a major city like this can be intimidating. We found that the New Orleans Rv Resort and Marina made it much easier to enjoy the famed French Quarter. Here we review this great RV park and explore things to do in the French Quarter. Of course, we also discuss some National park sites right in the French Quarter. 
French Quarter Locations to Visit 
Click On The Tab In Upper Left hand Corner To View The Locations We Visited In The French Quarter
New Orleans RV Resort & Marina Review 
Park Amenities 
As the most extensive waterfront RV Park in New Orleans, the park offers over 160 full-hookup  RV sites. In addition, the park offers:
On-site Bar & Restaurant
Convenience Store
Laundry Facility
Fitness Center
New Orleans is a large city so RV campgrounds are somewhat limited. However, there are a few different options nearby if you plan on a New Orleans Rv camping trip.
 After researching Rv parks in the area we decided to stay at the New Orleans RV Resort and Marina. Thankfully, we were not disappointed.
The New Orleans RV Resort and Marina sit right on the waterfront. In addition, it is only minutes away from the famed French Quarter. Getting to the campground was fairly simple. The RV park is only 3 miles off of Interstate 10, and easy to find.
The Park offers a free shuttle to the French Quarter which was the selling point for us. The shuttle runs multiple times throughout the day, takes you right from the RV park to the corner of Toulouse Street and Decatur Street in the French Quarter.
This stop is right in front of Cafe Beignet. During our stay, we started every morning with their famous beignets and coffee. If you visit the French Quarter we highly recommend visiting this famous cafe and must try a fresh beignet.
Our stay at Pontchartrain Landing was extremely enjoyable. The sites were clean, and not too close to each other. There is a bar and grill on-site that provides great evening music and entertainment. In addition, they offer a pool to relax in after spending the day touring the city. When looking back we really have nothing negative to say about our time here.
Places to Visit While Exploring the French Quarter 
The French Quarter of New Orleans is a magical place surrounded by lour, music, and history. 
One of the great things about the French Quarter is its variety, and abundance, of food. One night we decided to have a large family meal at Corner Oyster House. This amazing restaurant and grill sits right on the corner of St. Peter and Decatur streets. We had everything from pizza, to crawfish, to alligator, to creole jambalaya. To say that we were not disappointed is an understatement. If looking for a meal in the French Quarter we highly recommend stopping here. 
We spent most of our New Orleans RV camping trip visiting the French Quarter. Of course, this is because it's the only place the shuttle went to! 
Yet we did learn there is so much more to New Orleans, and someday we will return to see the rest of this great city.
Continue reading to see some of the highlights of our time in the French Quarter.
Marie Laveau's House Of Voodoo
 Marie Laveau's House Of Voodoo Facts 
Located at 628 Bourbon and 723 St. Peter
The museum and shop are located on Bourbon Street in the former home of the second Voodoo Queen of New Orleans.

VOODOO QUEEN MARIE LAVEAU II — the daughter of the first Voodoo Queen of New Orleans — was known for her wild rituals in the swamps around New Orleans.

Oepn Daily 10AM – 10 PM and Fri/Sat 10AM-12AM

Free admission and guided tour of the New Orleans Historic Voodoo Museum — see historic voodoo relics, paintings, sculptures, and other artifacts.
In addition to its food and music, the French Quarter is also famous for its rich history related to the world of VooDoo. We paid a visit to Marie Laveau's House Of Voodoo. This is an interesting stop and a great place to learn about the history of VooDoo in New Orleans.
St Louis Cemetery No. 1 Facts
Located at 425 Basin St, New Orleans
Opened in 1789 it is the oldest cemetery in New Orleans

The burial place of Marie Laveau, the infamous Voodoo Queen. She was known all over the city as the go-to woman to solve varying issues from cheating lovers to thieves. There are countless legends and even songs about her intimidating powers.

Nicolas Cage has a 9-ft tall tomb in the shape of a pyramid in the cemetery. The only words to grace the stucco and brick is the Latin phrase, Omnia ab Uno, which translates roughly to "all for one" or "everything for one."

Not open to the public and is accessible only via guided, licensed tours.
Another must-see is the Saint Louis Cemetery #1. The Saint Louis Cemetery #1 opened in 1789 and has a long history. This is home to the grave of the famous Voodoo Queen Marie Laveau. The cemetery is owned and managed by the Catholic Diocese of New Orleans, and is closed to the general public. However, there are a few tour companies allowed to give guided tours of the cemetery. In our opinion, this is money well spent. The cemetery is home to many famous people, and many historic New Orleans figures. 
Take A Break In Jackson Square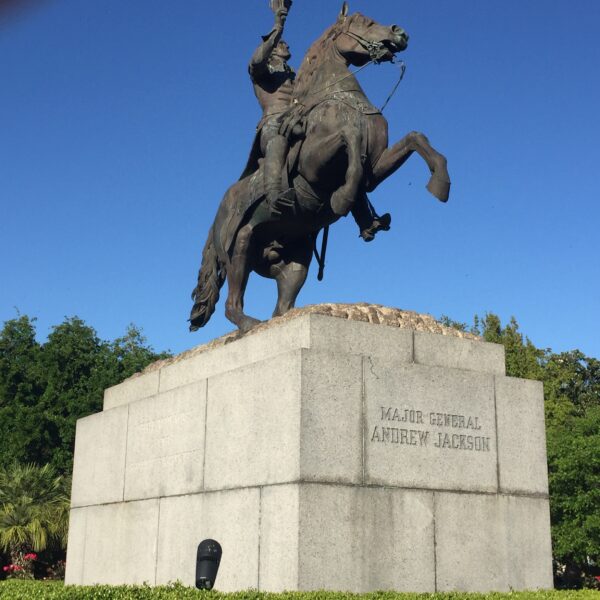 Jackson Square is one of New Orleans' most recognizable landmarks and is a National Historic Landmark nestled in the center of the French Quarter. 
This  2.5-acre space welcomes over 2 million visitors and locals each year and hosts a number of city events and celebrations. The landmark earns its name for the bronze statue of Andrew Jackson located in the center of the square.
We found this is a great place to sit back and relax after walking around the French Quarter. There is always live music being played in the area, and it is surrounded by fantastic food establishments. Or you can just take a few minutes to have a picnic and relax.
Tour the St. Louis Cathedral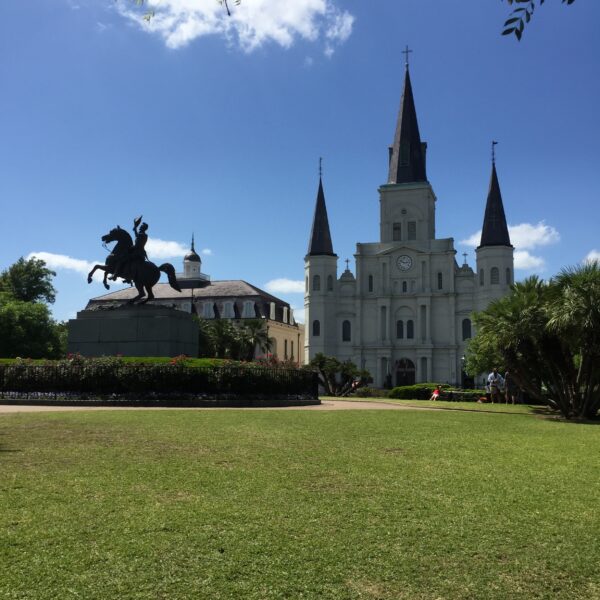 The St. Louis Cathedral is another one of New Orleans' most notable landmarks. The French Quarter is instantly recognized by this amazing cathedral and its position overlooking Jackson Square. The St. Louis Cathedral is among the tallest and most imposing structures in all of the French Quarter. 
Although it is a Catholic Cathedral, the rich history and beautiful design of the Cathedral attracts visitors of all faiths and nationalities. The interior is open for self-guided tours when the church is not being used. 
We highly recommend stepping inside to take in the amazing architecture of the St. Louis Cathedral. 
French Quarter National Park Service Locations
Of course, New Orleans RV camping was not complete for us without visiting some National Park Service locations. Fortunately, two NPS service sites are easily accessed in the French Quarter.
Our first stop was the New Orleans Jazz National Historical Park. This small site documents the history of Jazz and its roots in New Orleans. They have live performances throughout the day and offer free jazz history walking tours. The New Orleans Jazz National Historical Park is dedicated to preserving America's most widely recognized indigenous music art form. 
Also, you will find a visitor center for the Jean Lafitte National Historical Park and Preserve in the French Quarter. This park and preserve are spread out amongst six sites throughout southern Louisiana. The purpose of this preserve is to teach the history of the diverse Mississippi River delta region.
The Jean Lafitte National Historical Park and Preserve visitor center is at 419 Decatur St, New Orleans. 
In addition, both of these locations offer the Junior Ranger program. This is a free and excellent way to learn about Louisiana's history and its influences on music.
A Unique Tour of the French Quarter & A Stranger We Will Never Forget
This is a story of how lives can intersect for a short period and have lasting effects.
We were in the French Quarter until early evening. As the evening went on, the area was changing into adult-centered nightlife. Having our young children with us, we knew that Bourbon St. was not a place for them.
Therefore, I asked someone I met on the sidewalk where we should go. Immediately, this stranger told us to head to Frenchman St.
A short time later, we met our tour guide for the evening, Michael.
Michael was a complete stranger whom we met on the sidewalk in the early evening. I asked him how to get to the Frenchman, and his answer was, "Follow me, and let me show you how to get there."
We spent the rest of the evening following Michael, listening to his stories of New Orleans and laughing.
At one point, we wandered through an intersection when an upset group of people suddenly stopped us. We had unknowingly wandered into the middle of a scene of NCIS New Orleans being shot.
A Long Walk, But Well Worth It
The Frenchman is three miles from Bourbon St. I would swear we walked more than three miles following Michael that evening. Finally, we arrived at the Dat Dog restaurant on Frenchman St. Here, we celebrated our long tour through the French Quarter with some amazing hot dogs, cold beverages, and a few good laughs.
This is a story of a moment in time, on a sidewalk in New Orleans, where our lives intersected with a stranger. This was a man we had never met before.
Ultimately, we had an evening we will never forget, led by a man we will never meet again.
New Orleans is one of the great historical cities in America.  Of course,  New Orleans RV camping is a great way to enjoy what NOLA offers.  If you plan on traveling through the south in your RV we highly recommend adding New Orleans to your itinerary. 
The New Orleans RV Resort and Marina is an excellent Rv park to camp at while visiting the area. New Orleans RV camping is a great way to explore one of America's most famous cities. 
Of course, we will have to visit again someday to see more of what New Orleans offers.
We love to hear from our followers. Please leave a comment below. 
Have you ever visited New Orleans while RV traveling? Do you have any tips, or things to see in New Orleans? Did you stay at an RV park in the area you enjoyed?