RV Camping in National Parks is an incredible experience that will create lifelong memories.  To date, we have visited 16 of the 63 National Parks while traveling in our RV. Our of all these national Park RVing adventures, we have created the ultimate guide to RV camping in National Parks. Visiting National Parks in an RV takes some preparation and planning. These valuable tips will help you enjoy fantastic camping adventures you will never forget.
Get an America The Beautiful Pass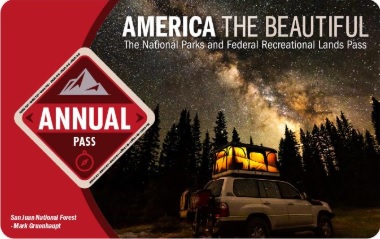 We recommend purchasing an America the Beautiful National Park pass if you plan on visiting more than one NPS site in a year.  This $80 annual pass gives you free admission into over 2,000 sites nationwide. The America the Beautiful Pass includes National Parks, National Forest Service land entry fees, and more. We have found that many of the National Parks have $25-35 entrance fees. Therefore, the park pass will pay for itself in as few as three park visits. 
Each pass provides free entry for one passenger vehicle and all occupants,  or the pass holder plus three adults at per person fee areas. 
If you are in the military, have a permanent disability, or are over 62, you may be eligible for a discount or free pass. Passes can be purchased online at the USGS Store. In addition, the pass can be purchased at most of the National Park entry gates. 
Pick Right Time of Year for the Park
There are National Parks in thirty states and two U.S. territories. They range from as far north as Alaska and south as southern Florida. Therefore, it is essential to pick the right Park for the time of year you plan on traveling. 
Of course, most people want to visit the National Parks when the weather is perfect. Finding a balance between great weather and peak tourist season is crucial in avoiding crowds. The National Parks often see their most significant number of visitors on weekends and during summer. 
In addition, if you are flexible with your travel dates, avoid holidays and peak travel times such as spring break and summer. Visiting the more popular parks such as Yellowstone, Grand Canyon, and Arches National Park in May or September instead of June or July can make a big difference in your experience.
We certainly learned this lesson the hard way. We traveled over 2,000 miles to the Big Bend N.P. in Texas during the month of August. To say that it was hot and unbearable at times is an understatement, In addition, not all Parks are open year-round. 
While nearly all national parks offer RV camping, they don't all accommodate large RVs. In addition, limited space and tight turns within the campgrounds and the access roads make it difficult to operate larger RVs. We have found that many parks have size restrictions and cannot accommodate larger RVs in any of their campgrounds. Yet other parks have limited spaces for large rigs. 
We took our RV to Yellowstone N.P. and stayed at two separate campgrounds. The Grant Village campground (430 sites) only accommodates RVs up to 40 feet. However, the Fishing Bridge RV Park was able to handle larger rigs at 172 sites. 
Make Campground Reservations Early
Like many other RV travelers, our cross-country travels occur during summer. One of the most important lessons we have learned is that you'll need to do a fair amount of planning. The main reason to plan early is to ensure you get a site for your RV.
Many reservations can be made up to six months in advance. Therefore,  if you want a June 1 reservation, the earliest date you can make it is January 1. We have learned to make a note on our calendar to do this. The earlier you book, the better your chances of securing your desired site. 
Of course, if you can't get a reservation, you can try to get a walk-up or first-come, first-serve site when you arrive at the park. We do not recommend doing it this way, but it is possible! If you decide to try your luck at securing a first-come campsite, you will need to arrive at the campground early in the day. You can often speak to the Ranger at the entrance gate and learn which campgrounds and campsites may be available.
Look Outside Of The Park for RV Parks
With the rise in RV travel, you may find it hard to get a reservation at the Park you hope to visit. However, do not let this deter you from making those plans. We have found that many National Parks have RV campgrounds nearby, and many even offer discounts and travel accommodations.
Of course, staying in the park is often a trip highlight. However, you can still enjoy the parks and all they offer if you stay outside of the park. Many RV parks near the National Parks cater to the park visitors and are often well worth the stay. 
One of the benefits of  RV camping in National Parks is experiencing nature without the noise and distractions of the modern world.
Therefore, like any other time you make campground reservations, reviewing the campground's amenities is essential. We have found that many campgrounds in the National Parks do not offer full hookups. We have been at some that have electric only, water only, or no hookups at all.
In exchange for giving up these comforts, you get to enjoy the full natural beauty of the parks. In addition, everyone needs to disconnect from time to time, and national parks are the place to do it.
Prepare For Limited WiFi and Cell Service
This is an important lesson we first learned at Yellowstone National Park and then again experienced at Big Bend N.P. The National Parks are often remote and have natural features that will block these signals. However, it should not deter you from going. 
As a matter of fact, we found this to be a blessing in disguise while visiting Yellowstone. It did not take the kids too long to overcome the fact they were disconnected from the technological world they were used to. For the first time, they spent their entire camping adventure riding bikes, running around with other kids, making new friends, and enjoying all that the park had to offer. 
Have An Activity Plan For The Park
The most important part of RV camping in national parks is planning what you want to see and do in the park. The national parks are tremendous and often cover a wide area of land. For example, Yellowstone is 63 miles from north to south. We learned that seeing and doing everything in one trip is nearly impossible. Therefore, you need a plan ahead of time. The National Park Service website is an excellent resource for this. 
We recommended making a list of activities, trails, sights, and experiences that are important to you and your family. One great way to learn about the park and find things to do is the Junior Ranger Program.
However, don't plan too much to do in one day. Time for relaxing at the campsite and enjoying the view is half of the fun! 
Start at The Visitor Center
We always start at the park's visitor center. We learned this lesson when we first arrived at Grand Canyon N.P. This park is so big we had no idea where to start. Thankfully, the Park Rangers helped us build an itinerary. 
In addition, the exhibits and park movies are some of the best ways to develop an understanding of what makes the park unique.
Once you've learned about the park, you can ask a Park Ranger to point out on a map the things to see and do in the park that align with your family. 
Regardless of what you want to do, the Park Ranger will be there to help. 
This seems like a given. However, we have learned that many parks can become overwhelming due to their size and activities. You may not know if you will have the opportunity to return, and you will want to see and do as much as possible. This could easily take some of the fun away at some of the more significant parks.
RV camping in National Parks aims to slow down, relax, and enjoy your time with your family. Be sure to add time to sit by the campfire, relax, and enjoy your time at the park.
Our RV Camping in National Parks Experience
RV camping in National Parks is a great way to spend time with your family, learn new things, see incredible things, and relax. 
Of course, it takes some planning ahead of time to ensure that it is enjoyable. Millions of people visit the National Parks every year. So to ensure you are one of them and enjoy your time there, be sure to be prepared beforehand. These tips will help ensure you have an enjoyable and memorable trip. 
We have camped at Grand Canyon, Yellowstone, Big Bend, Great Smoky Mountains, and many others. Each has its own uniqueness to it, and all are well worth taking the RV to.
We love to hear from our followers. Please leave a comment below. 
Have you traveled to the National Parks in an RV? Or, have you camped in the Parks in a tent? Do you have any additional tips for camping in the National Parks?