Our family has covered many regions of the country during our Rv road trips. We have traveled from Cape Cod to the deep south, rocky mountains,  the southwest, and the western United States. Yet New England is something different. Of course, living in New England we may be a little biased. These 6 family-friendly New England RV Parks are located in Massachusetts, New Hampshire, Vermont, and Maine. All of these RV parks are great places to set up camp and tour the surrounding areas. 
New England RV Parks Locations
Why Your Family Should Take A New England RV Road Trip
New England makes up the northeast corner of the United States. This beautiful region is revered as the birthplace of America. Of course, what better way to explore world-changing history than in the comfort and convenience of an RV?
Each season of the year offers unique things to see, and do. Although the first snow and winter may be beautiful, we recommend it anytime from spring through fall. The coast is filled with amazing beaches to take advantage of during the summer, and the fall offers majestic foliage changes throughout the region. 
Each state is rich in American history and offers many opportunities for learning. 
Traveling Ner England by RV will allow you to witness the small New England towns and the beauty of the region. All of these New England RV parks are family-friendly and offer a number of ways to enjoy what New England has to offer. 
1. Moose Hillock Camping Resort
96 Batchelder Brook Rd, Warren, NH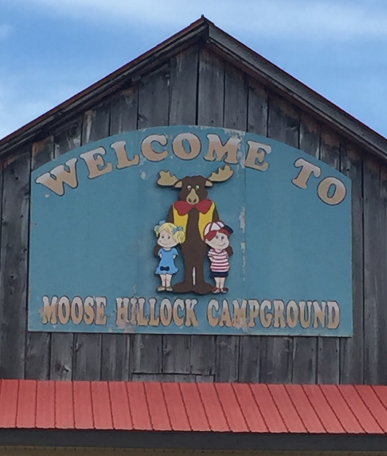 This campground has everything you think of when you think of outdoors camping. Lots of woods, hiking trails, kids running around everywhere having fun, campfires in the evening, lots of tents, and families making great memories. 
Of course, being in the woods there is no wifi or cell service. Which in our opinion is not a horrible thing. Yet there is also one vastly different aspect to this campground. Their pool has a large Spanish Galleon with water slides and guns. The pool was certainly the highlight, and it even has a snack bar if you need to grab a few bites.
For a number of reasons, this is our favorite family-friendly New England RV park. The park is well maintained, offers amazing scenery, and there is always something to do for the entire family. Can learn all about this park on our Mosse Hillock blog post. 
2. Normandy Farms Campground
72 West St, Foxborough, MA
If luxury RV glamping is your style then Normandy Farms Family Camping Resort in Foxborough, Massachusetts needs to be at the top of your list. This park is often ranked one of Americas top New England RV parks
The RV park is set up in the woods between Boston & Cape Cod. It is a luxury camping destination that has been widely recognized as one of the premier resorts in the world.
Normandy Farms has a vast assortment of activity centers and four separate swimming pools. Without question, there is something for everyone here. In addition, it is a quick 5 miles from Gillette Stadium and Patriot Place.
3. Spacious Skies Campgrounds – Minute Man 
264 Ayer Rd, Littleton, MA
Spacious Skies Campgrounds – Minute Man is a small campground nestled in the woods in Littleton, Mass. There is a mixture of Rv sites, and tent sites spread throughout the campground. We had Rv's on both sides, and tents right behind us. Much like many other campgrounds there was a small camp store with the few odds and ends you may need while camping.
They have clean bathhouses that offer clean showers as well. There is also a small pool that kept us busy. It's small, but just the right size to cool off in the afternoons. As far as activities there is a recreation area with a basketball hoop, a bocce court, and some horseshoes.
The Minute Man National Historical Park is a quick 20-minute trip from the park. This is a great NPS location that shares the history of the Revolutionary Wars beginning in Concord and Lexington Ma. Be sure to read our Boston National Park Sites post to find some great things to do while visiting Boston.
The Campgrounds web page has much more information regarding a visit. We spent two nights here and had no complaints. If you are looking for a true Rv campground this may not be what you're looking for. There were more tents, and families spread throughout the campground with the assorted RVs. However, if you are looking for a nice getaway, not far from Boston, this is certainly a valid option.
4. Brookwood RV Resort 
133 NY-9N, Ticonderoga, NY
The Brookwood Rv is a small RV park. If you are looking for an RV park to set up camp, stay for a few days, and relax this may not be the place. However, if you are looking for adventure with your family in the picturesque Adirondack mountains Brookwood Rv park is perfect. 
It is located along the northern edge of Lake Geoge and is within driving distance of the Lake. Lake George offers numerous kayak, canoe, and other outdoor adventures to enjoy with your family, 
If looking for outdoor adventure the Adirondack Extreme Adventure Course & Zipline Park is a half-hour drive from the park. You can learn some great history as well at Fort Ticonderoga which is less than 10 miles from the RV park. 
The staff here is more than helpful in planning excursions for your family so that you can enjoy a great time in New England's beautiful Adirondack mountains, 
5. Apple Island Resort
71 US-2, South Hero, VT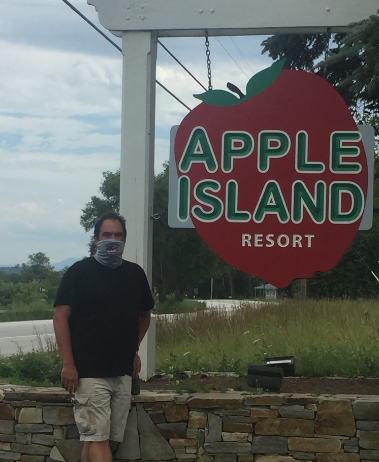 The Apple Island resort is a well-kept RV park sitting on Lake Champlain in Vermont. This is a great RV park to relax and enjoy the Vermont beauty. Although, this is certainly a family-friendly RV park we felt it was more geared to those enjoying their retirement in their RV. Of course, many of the retired RVers at the park enjoy their time here with their families and grandkids. 
Many of the RV sites at Apple Island offer stunning views of the Vermont mountains and Lake Champlain. On a clear day, the sunrise over the mountains and lake is breathtaking. 
The RV park offers a well-manicured 9-hole par 3 golf course on the premises. In addition, there is a country store with a deli at the park that offers great sandwiches and lunch deals. They also offer a small swimming pool to cool off in during the afternoons. 
You can enjoy the breathtaking views of Lake Champlain from boats or kayaks out of the Apple Island Marina as well. 
Our Family RV Experience in New England 
Living in the New England area we have visited a number of RV parks throughout the region. Each state has great RV parks for your family to enjoy the area.
We have had the pleasure of staying at each of the 5 parks reviewed here, and each offers great benefits.
The first two were great parks to set up for a week or so, stay put, and relax. They each offered plenty to do for the entire family.
The final three were great locations to park the RV and tour the surrounding New England landscape with each offering benefits for the family.
We love to hear from our followers. Please leave a comment below. 
Have you RV traveled through New England? Have stayed at any of the mentioned parks? Are there other parks in New England you recommend?