Moose Hillock Camping Resort in Warren New Hampshire is literally found in the middle of nowhere. It is found nestled in the White Mountains surrounded by the White Mountain National Forrest. However, do not let this fool you. This is a great family campground, and they offer Rv glamping done right. Moose Hillock N.H. is a great escape and the perfect place to set up the Rv. 
What is Rv glamping?  Well with an Rv, you can get away to the great outdoors without letting go of the creature comforts of home. Therefore, Rv glamping gives you the best of both worlds! You can enjoy the surroundings of mother nature, sit around the campfire, and cook smores. In addition, you have the comfort of your own bathroom, a kitchen, and you don't have to sleep on the ground! Moose Hillock does a great job of allowing you to use your Rv, but still, be in touch with the mountains and the surrounding nature. 
Continue reading to learn all about this awesome camping resort, and how they offer glamping done right.
How to Get to Moose Hillock Camping Resort
96 Batchelder Brook Road, Warren, NH 03279
The campground is located off of N.H. 118 in the small town of Warren. You can access N.H. 118 from either I93 to the east or I91 to the west. 
Coming from the south we find that I93 is the easiest route. Take exit 26 towards NH-25 Plymouth/Rumney. Continue on 25W until NH118-N. You will find a large Mosse Hillock sign at the intersection of Batchelder Brook. Turn right and follow the road right to the entrance Moose Hillock N.H.,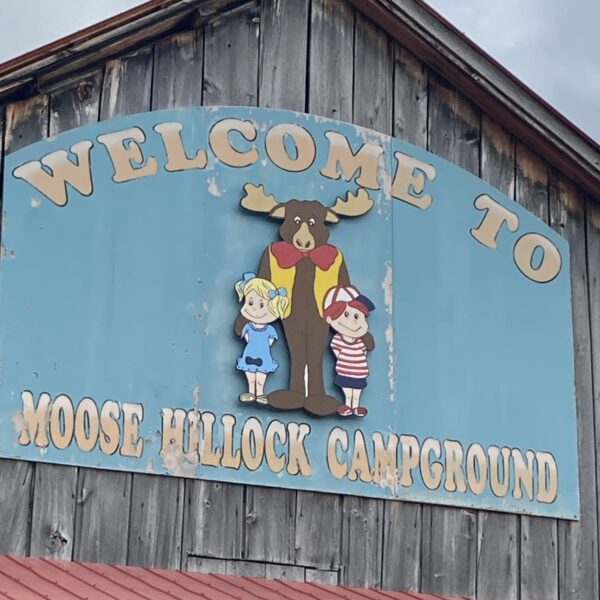 Camp Ground Facts & Amenities 
The campground covers 90 unspoiled acres, surrounded by thousands of acres of White Mountain National Forest.
Tent sites are located in a secluded area that is exclusively dedicated to tenters. 
RV sites are large, level, and private, with 20 – 30 and 50 amp electrical service with full hookup sites also available
2 Different sized cabins are also available. 
The Blue Lagoon Tropical Swimming Pool and Water Slides include a poolside cafe serving breakfast, lunch, and dinner
There is a game room and recreation area inside a 200-year-old post and beam structure. 
A small store with limited groceries, souvenirs, and camping supplies.
**** YOU NEED TO BE AWARE THAT CELL SERVICE AND WIFI IS EXTREMELY LIMITED IN THE CAMPGROUND. THERE IS FREE WIFI IN THE POOL AREA, AND AROUND THE STORE. HOWEVER, AT THE SITES THROUGHOUT THE PARK YOU MAY NOT BE ABLE TO GET CELL SERVICE OR WIFI****
The Blue Lagoon Tropical Swimming Pool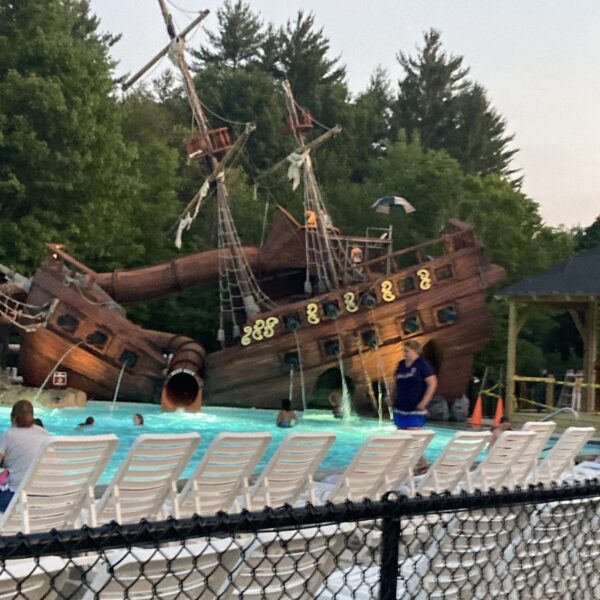 In our opinion, this is the best part of Mosse Hillock. You are surrounded by the White Mountains, and an almost untouched environment. It is relatively quiet in the area. Then in the middle of the campground is this awesome swimming pool, and what seems to be a day-long party. 
Right next to the pool you will find the poolside cafe, the check-in office, the store, and the game room. Not to mention this is the one place in the campground where WiFi is readily available. 
The centerpiece of the pool is a large Spanish Galleon. A spiral water slide travels through the Galleon. Next to the large Galleon is a smaller water slide for younger children. 
This large, and awesome pool is open Memorial Day weekend thru the weekend following Labor Day. The pool hours are from 9:30 AM through dusk.
The Blue Lagoon Tropical Swimming Pool is the center of action in the campground. There is always music playing, and it is never empty. 
The Rv Sites | Rv Camping Done Right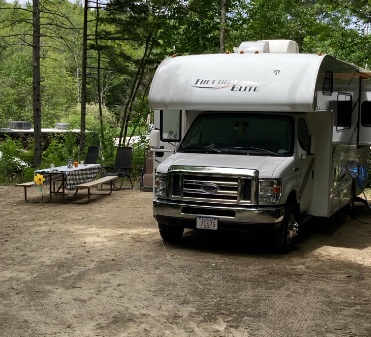 The campground offers both tent and Rv sites. However, our experience is only with the Rv sites.  Also, since this is an Rv travelers page we will discuss the Rv sites at Mosse Hillock.
The sites are large, and surrounded by trees. These sites offer more privacy than your typical Rv park. 
Each site offers 20, 30, and 50 amp service. There are also many full hook-up sites available. 
Each site comes with a picnic table, and fire pit as well. 
The sites we have camped at have all been very well maintained, clean, and level. 
So while you are in the wilderness of New Hampshire, surrounded by trees and nature, you can still enjoy glamping done right in these great Rv sites!
Our Moose Hillock N.H. Camping Experience & Campground Review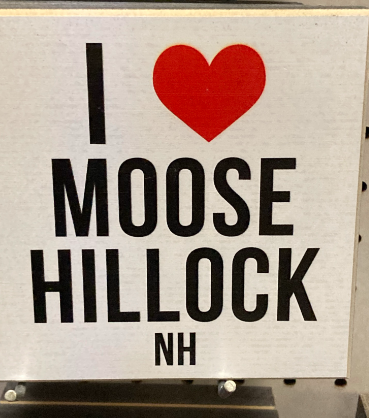 The first time we visited Moose Hillock N.H. was while we were touring New England. You can read about this trip on our New England Camping blog post. 
Moose Hillock offers a lot to do and is family-oriented. In addition to the Blue Lagoon Tropical Swimming Pool, there is a game room, basketball court, volleyball court, and playground for the younger visitors. In addition, there is a small pond that is stocked and offers fishing. 
We have stayed here twice and left both times extremely satisfied. 
We had so much fun the second time in our Rv that we needed to return the following year. In addition, we wanted to share this small treasure in the White Mountains with our entire family and rented a cabin in addition to the Rv site. 
The cabin was clean and within a short walk of the Rv site. 
We highly recommended visiting Moose Hillock N.H., However, just be aware that the campground fills quickly. So when you do visit make sure to reserve early in order to get a site!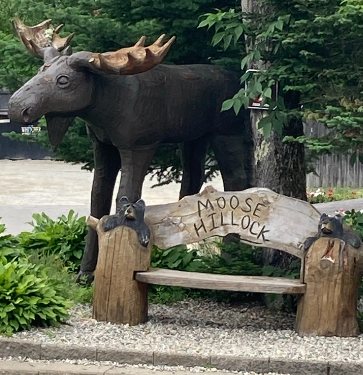 We love to hear from our followers. Please leave a comment below. 
Have you visited Moose Hillock N.H., or its sister campground Moose Hillock N.Y.? Have you ever camped in the White Mountains? Is there anything else you would like to learn about Moose Hillock N.H. or the White Mountains?