The Four Corners Monument is an interesting, and unique tourist destination. We stopped to visit the four corners monument on our first cross-country Rv trip. This is the only place in the United States that four states intersect at the same point. At this site, you can be in Arizona, New Mexico, Colorado, and Utah at the same time. 
If you are planning to visit the four corners monument there are a few important things you need to know. 
About the Navajo Nation Four Corners Monument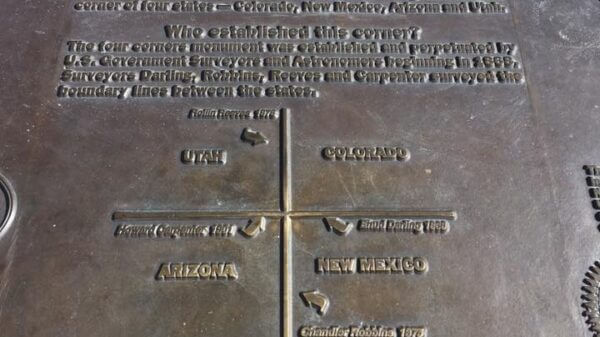 The Four Corners Tribal Park is operated by the Navajo Nation Parks & Recreation Department. Not only does the monument mark the intersection of four states it also marks the boundary between the Navajo Nation and Ute Mountain Tribe reservations. 
When visiting the monument there is a small fee of $5.00 per person between October 1 and February 28. Between March 1 to September 30 the fee is $10.00. All children under the age of 6 are admitted for free. 
The area that the four states meet is marked with a granite disk embedded with a smaller bronze disk. The disk is surrounded by state seals and flags representing both the states and tribal nations of the area.
There is a dirt parking lot adjacent to the monument. The parking lot is large and there is a section reserved for RVs. There are no painted parking spaces, so parking can seem a little crazy. However, Four Corners wasn't that crowded so we had no problem parking our Rv.  The unpaved lot was a bit rough and bumpy, but most cars should be fine at low speeds.
Surrounding the monument are local Navajo and Ute artisans selling souvenirs and food. 
Be Prepared Because The Monument Is In The Middle of Nowhere 
Before planning your trip to the Four Corners it is important to understand that it is literally in the middle of the southwest desert. The surrounding area is exactly what you think of when you think of the desert. All though beautiful, and full of awesome scenery, there is nothing around for miles.
The closest gas station and convenience store are at least 30 miles away from the monument. Once you arrive at the monument there is no electricity, water, or other amenities on site. 
We were unaware of all of this when we arrived on August 9th. It was hot with no shade or amenities. Thankfully for us, we had our Rv where we could cool down. 
Although there are plenty of people selling souvenirs, and gifts, there are no concessions. 
Again make sure if you are driving out the four corners you have a full fuel tank. It is a good 60-mile round trip drive from the nearest gas station and back.
Is Visiting the Four Corners Monument Worth It?
Many people often wonder if the Four Corners Monument is worth visiting. In all reality, it's nothing more than a tourist trap many miles from anywhere. However, we believe that if you're in the area and have the time, then it is a cool photo stop. It also gives you the ability to say that you've stood in four different states at the same time. Unfortunately, if you go expecting more, then you may be sorely disappointed.
This was a part of our cross-country trip from Massachusetts to Arizona. The scenery during the drive was beautiful, and like nothing, we had ever seen. Yet, we only spent about a half-hour at the monument.  
So our answer to the question is that if you're in the area and enjoy unique roadside attractions, then definitely visit the Four Corners Monument. However, we don't recommend making a long trip just to see it and nothing else as you may be disappointed. 
The Four Corners Monument is a cool, and unique stop. As we travel across the country we are always looking for different roadside attractions to stop and visit. Four Corners did not disappoint. 
Our drive to the Four Corners was over 2,600 miles one way. Again. We wouldn't recommend driving that far just to visit this cool monument. However, if you are in the Monument Valley area, definitely stop, stand in four different states at once, and get some cool pictures. 
We love to hear from our followers. Please leave a comment below. 
Have you visited the Four Corners Monument? Do you enjoy your visit? Do you have anything to add about this unique roadside attraction?