One of the greatest benefits of RV travel is the ability to visit new places, and see new things. We are often asked, "Why do you drive so many hours when you can just fly there?". The answer to this question is simple. It is often the things you stumble across between point A and point B that make some of the best memories. Any RV road trip regardless of length allows you to visit America's weird roadside attractions. Therefore, it s important to add weird roadside attractions to your itinerary.
How to Explore Roadside Attractions
America's roadways are home to many unique, and often times quirky or weird roadside attractions. The purpose of these attractions is simply to attract tourists. They are most often somewhere you pull over while traveling, and not necessarily a travel destination. Of course, as you will see, one roadside attraction along I95 has become a destination.
When long-distance road travel became popular in the early 20th century, entrepreneurs began building restaurants, motels, coffee shops, cafes, and unusual businesses to attract travelers.
During the same time Rt. 66 became a famous cross-country roadway from Chicago to Santa Monica. Known as the he Mother Road, this road is famous for its weird roadside attractions. Even today some of the roadside attractions along Rt. 66 still stand. Of course, today they are also found along most of the highways in America.
Our favorite tool to explore roadside attractions is the website Roadsideamerica.com. Here you can find roadside attractions according to state. In addition, they offer a mobile app that will use your current location to identify attractions in your area as you are traveling.
Below we share reviews and information regarding some of the roadside attractions we have visited during our travels.
As we continue to travel the roadways of America we will continue to explore roadside attractions, and share them, with all of you.
Weird  Roadside Attractions Locations
The Worlds Largest Pistachio 
We have all heard stories about the world's largest ball of twine, or the world's largest rubber band ball, but what about the world's largest pistachio? Well if you are ever passing through Alamogordo, New Mexico you should stop and see this roadside attraction.
The world's largest pistachio is located at the McGinns Pistachioland on US-54 in Alamogordo. It sits in the parking lot of Pistachioland and stands 30 feet high. According to their website, the large pistachio is a tribute to Pistachiolands founder Thomas McGinn. After his passing his family wanted to build a tribute showing everyone that passed by the pistachio farm what their father had built. There is a bronze plaque at the foot of the pistachio that reads "Tom dreamed big, expected big, and accomplished big things. He would have said the monument is not big enough!"
In 1980 Thomas McGinn created a 111-acre pistachio farm. His pistachio farm was built in the bare New Mexico desert of New Mexico. When visiting McGinns Pistachioland you can go on a tour of the farm on a motorized trolly, and visit McGinn's country store.
The country store sells anything, and everything pistachio-related. There are free samples of a large variety of different pistachio flavors. The one thing we certainly recommend is their pistachio ice cream. All of us loved their ice cream, and argue it is some of the best ice creams we have ever had.
In Elbert County, Georgia sits the Georgia Guidestones. Conspiracy theories and secrecy surround this roadside attraction.
This granite monument was erected in 1980. A set of 10 different guidelines for the world are inscribed in eight different, modern languages. Along the top, a shorter message is inscribed in four ancient languages.
Included in the monument are different astronomical features. A hole drilled through the center column reveals the north star. The sun's equinoxes will also align with a slot carved out of the centerpiece. .  In the same column, a small hole allows the sun rays to shine a beam onto the center column indicating the day of the year.
Who paid for them, and why is the biggest question? There is a slab of granite that explains the purpose of the stones. This slab of granite explains the astronomical features and the specs of the main stones. In addition, the slab mentions the name R.C Christian as the Author. Many believe this to be a pseudonym. There are many theories regarding these stones. However, many believe they are a guide to humanity following an apocalyptic event.
The Georgia Guidestones are located at 1032 Guidestone Rd, Elberton, GA.  The stones sit on a small hill in the middle of farmland, with little to nothing surrounding them. They are certainly something you have to plan to find. It is doubtful you will stumble across them while traveling. This is certainly one of the most unique roadside attractions we have visited.
Important Update 2022
On July 6, 2022, an explosive device was detonated at the site, destroying the Swahili/Hindi language slab and causing significant damage to the capstone. Unfortunately, the Guidestones have been dismantled. Although, nothing sits here but an empty field now we felt important to keep this weird roadside attractions memory alive.
Worlds Most Remote Prada Store 
This roadside attraction is certainly not an easy one to come across. We stumbled upon it as we drove through the Texas desert between Big Bend National Park and New Mexico. The Prada of Marfa Texas is located in the middle of the Texan desert, with nothing around it for miles. We had to turn around to get a better look when we drove by it because we thought our eyes had deceived us.
Prada of Marfa of Texas is located right along the side of US Highway 90 about 30 miles north of Mafa Texas. The roadside attraction is considered sculpture art by architects Ronald Rael and Virginia San Fratello. The artist claims the sculpture is built of biodegradable material and will slowly melt into the earth as a commentary on materialism.
If you ever find yourself along US 90 in Texas keep your eyes open for this interesting piece of art. If you go through Valentine, Texas you are in the right area. Of course, Valentine Texas is a small town with a population of little over 100 and is easily missed also.
The Dignity of Earth and Sky Statue
The Dignity of Earth and Sky Statue is located off I90 in South Dakota between 263 and 265. We just happened upon this roadside attraction traveling to the Badlands National Park. We had decided to stop at the next rest stop we found to make some lunch, and stumbled upon this awesome rest stop. However, we were amazed by what we came across.
This amazing statue towers over its visitors at 50 feet. It stands over the banks of the Missouri river with her arms outstretched holding a quilt. The quilt is designed to sparkle in the sunlight and is an amazing view.
If ever traveling I90 through South Dakota this rest area is definitely worthy of stopping at. You learn all about this awesome attraction on our Dignity of Earth and Sky post. 
Cadillacs and Steaks in Amarillo Texas 
Interstate 40 runs through the panhandle of Texas parallel to the original RT 66. When driving through Amarillo along I40 there are two famous roadside attractions. One is easily missed if you are not paying attention and the other has a distinct sign that cannot be missed.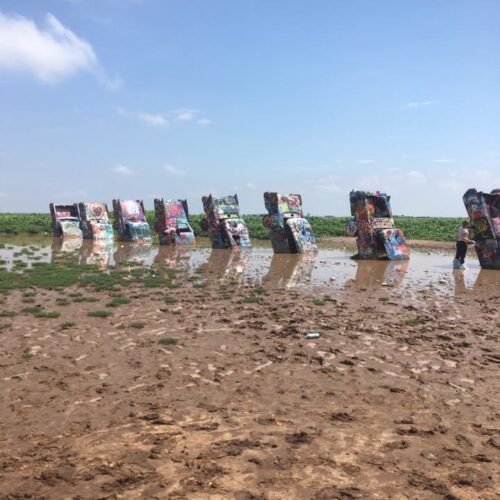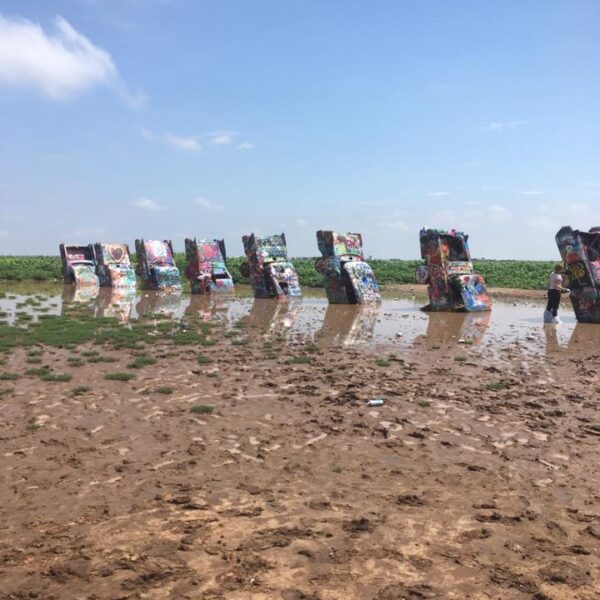 Cadillac Ranch 
Cadillac Ranch sits in a cow pasture off of I40 west of Amarillo. To get to the cow pasture you have to take the frontage road off of I40 and park along the side of the road. From here you walk through an unlocked gate and walk right up to the Cadillacs.
Ironicincaly enough there is a sign when you first enter the site that reads "Painting of Anything on this Side of the Fence is Illegal". Well, we suggest if you do visit Cadillac Ranch bring a few cans of spray paint. Painting the Cadillacs is encouraged. Each of them is covered in layers of spray paint. Our kids thought this was great to be able to paint the cars and leave their mark.
Big Texan Steakhouse 
If you are looking for an amazing steak dinner before or after spray painting Cadillacs there is no better place than the Big Texan Steak Ranch right off I40 in Amarillo. The Big Texan was originally located on the original RT 66.
If you are looking for a challenge the Big Texan is known for its 72oz steak dinner challenge. The meal is free for anyone who is able to complete the meal within 1 hour. We did not participate in this challenge. If you do decide to take the challenge you are seated at a table, on a stage in the center of the restaurant. There is a digital clock above you, and everyone inside can see you and root you on.
Learn more about both of these attractions on our Amarillo Texas Attractions blog post. 
If you have ever traveled along I-95 North or South, along the North/Soth Carolina border you have surely seen one of the 185 billboards for this unique attraction.
As mentioned above most roadside attractions are small as tourist attractions. However, South of the Border is certainly an exception. If you stop at South of the Border now you can find a restaurant to eat in, a hotel to stay at if you wish, hook up in their small RV park, or visit the large gift shops and buy just about anything with the South of the Border logo on it.
You can learn more about all the options at South of the Border on or blog post.
For us? We did the normal roadside attraction thing. Took some pictures with a few of the statues and the Pedro sign, and continued on our adventure.
Tennessee Elvis Welcome Center 
This Tennessee welcome center is located along I-40, Exit 1, at mile marker 0.30 along the banks of the Mississippi River.
The building located at this unique rest stop along the Mississippi River houses two magnificent bronze statues. These two statues pay tribute to two of Memphis most famous musicians.
The statue of Elvis Presley was the first bronze statue of him in the world. Originally it was placed on Beal St. in Memphis. In 1996 the statue was moved into the welcome center to protect it from the elements, and souvenir collectors.
Across from Elvis stands a towering bronze statue of the "King of the Blues" B.B. King. The statue shows King playing his famous guitar named "Lucille."
The remains of Graton sit in a beautiful valley along the Virgin River surrounded by amazing views of the mountains and large formations that make up the Zion National Park.
Fortunately this historic site is has been preserved by the Grafton Heritage Partnership Project. This preservation project has helped improve the remaining structures and has provided a few interpretive signs for visitors. Other than these small changes the majority of the abandoned town stands as it did when it was finally abandoned.
Of course, this is a must add if visiting Zion National Park.
Our Experience Exploring America's Weird Roadside Attractions
Driving along the American roadways, and highways can be a great adventure. However, stopping along the way between point A and point B is one of the best benefits of traveling in an RV. This allows your family to stop and explore roadside attractions.
Our travels have taken us all over the country, and we have been lucky to visit many weird roadside attractions. In 2017 we stopped at a Walmart parking lot in North Platte, Nebraska and witnessed the 2017 total solar eclipse. 
Regardless of where you are traveling, there are always ways to explore roadside attractions and make great memories. Of course, this is what makes RV travel so exciting for the entire family.
We love to hear from our followers. Be sure to leave a comment below.
Have you explored unique roadside attractions? Which was your favorite? Any tips, or suggestions, about other roadside attractions?