The Austin Lone Star RV resort is located five miles from downtown Austin. The RV park provides over 150 spacious RV sites with full hookups and gorgeous trees that provide some relief from the hot Texas sun. In addition, the park offers rental homes with plenty of space in our fantastic RV community. If you want to take a break from the Texas heat, you can swim in the pool, play billiards in the clubhouse, or pick up a few RV supplies and other necessities at our convenient on-site store. This fantastic RV park is located in an ideal location that provides easy access to all of Austin's attractions and conveniences.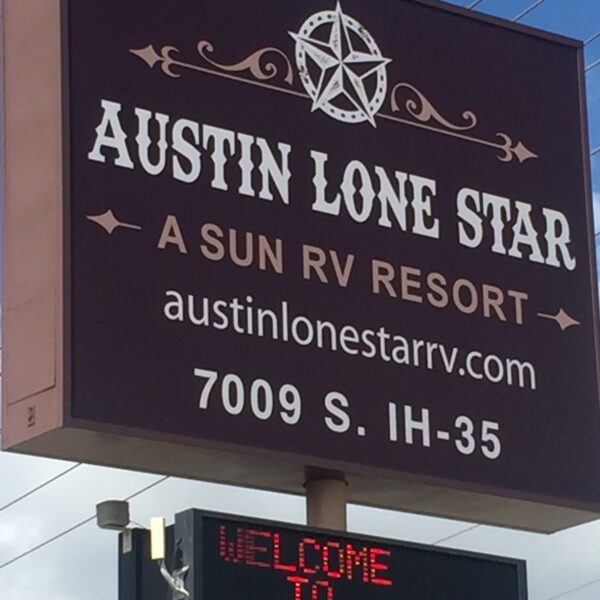 Austin Lone Star RV Resort Location
7009 Interregional Hwy, S I-35 Frontage Rd, Austin, TX
RV Resort Amenities 
5 Minutes from downtown Austin
Gated Property
On-site store
Laundry Facilities
Pet Friendly
Heated Pool
Game Room
Full Hook-Up Sites Up to 50 Feet
RV Resort Review
Most often RVers use the RV to escape the hustle and bustle of life and be surrounded by nature. However, urban camping can be enjoyable with a suitable RV park. If you are looking to visit Austin, Texas in your RV this park is the perfect location.
The sites were level and well-maintained, and pull-through sites with gravel pads are offered. All the sites have full hookups, including water, electricity, and sewer. In addition, they offer some sites with charcoal grills.
There is a small pool in the park that will help you cool down after a day of activities in the Texas heat.
Our interactions with the staff were pleasant and helpful. There is a tone to do and see in the capital of Texas. With a few days in the city, the staff was able to help us plan on seeing some of the highlights, such as the Congress Bridge Bats.
We highly recommend choosing the Austin Lone Star RV Resort when visiting the Texas Capital. Click here to find out more and make your reservations.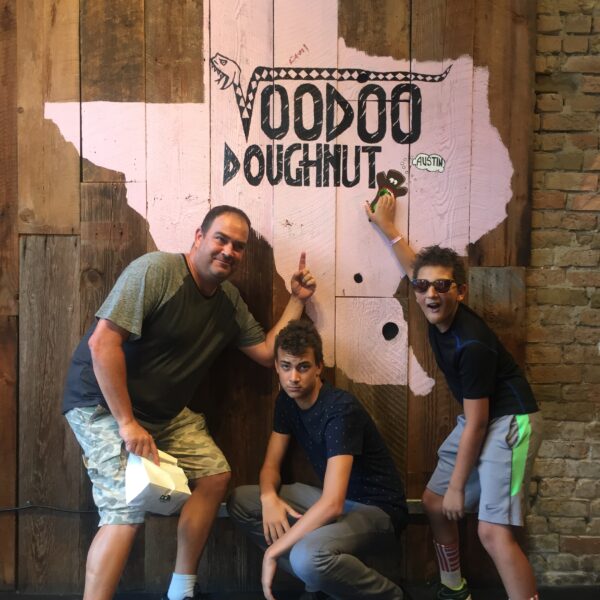 Enjoy a VooDoo Donut
The donuts at VoodDoo Doughnuts are different from what you are used to. It could easily be said that the Doughnuts offered at VooDoo are large enough to be a meal themselves. Voodoo Doughnut offers more than 50 artisan flavor options, including 25 vegan options focusing on the guest experience, employee incentives, and giving back to the community through its charitable initiatives.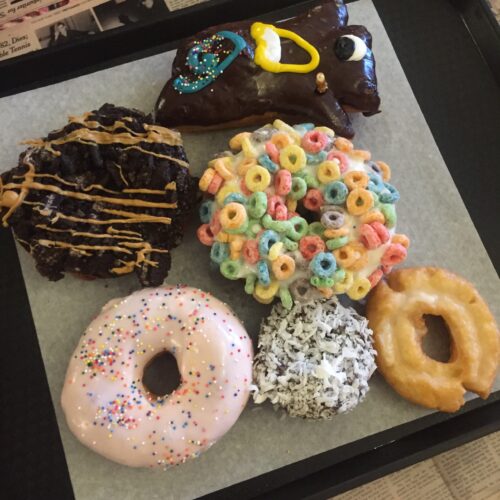 View the Congress Street Bats 
People from all across the globe travel to Austin to view bats. The Congress Street bats are one of the annual most visited local Austin, Texas attractions.
The South Congress Bridge, also known as the Ann W. Richards Congress Avenue Bridge, bats put on a spectacular nightly show of dynamic aerial flight typically lasting 45 to 60 minutes long.
Enjoy A Stroll Along 6th Street
6th Street is one of  Austin's most visited locations. It is an entire street that embodies Austin's culture and provides an atmosphere with good music and drinks. Most call it a day or night out, and others call it an experience that resonates with their time in Austin.
6th Street Austin comprises Dirty Sixth, West Sixth, and East Sixth. All of them are uniquely different from each other, providing entertainment depending on what you are looking for.
A staple in Austin's history that has maintained its original roots and continues to deliver more than what people expect. Even those who aren't strangers to 6th Street continue to enjoy their time there, which says a lot. Every different place you find yourself on 6th Street is an experience of its own, making 6th Street, unlike any other place!
Visit the Texas Capitol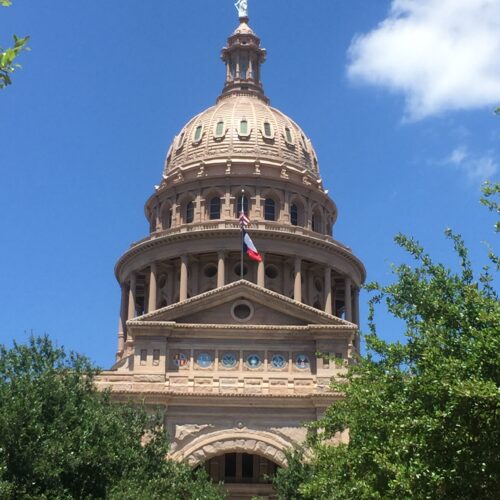 The Texas Capitol building was completed in 1888 and is 303 feet tall, making it the sixth tallest state capitol building. The building is clad in red granite from a local quarry.  They had planned on buying limestone from out of state (Indiana) but finally decided on a local stone from Texas.  They even built a railroad line a few miles to shuttle the granite from the mine to the building site. 
Monday through Friday, guided tours of the Capitol are available periodically between 9:30 a.m. and 4 p.m., with the last tour departing at 3:30 p.m. On Saturday and Sunday, guided tours of the Capitol are available periodically between 12:30 p.m. and 4 p.m., with the last tour departing at 3:30 p.m. Of course, self-guided tours of the Capitol and Grounds are allowed daily. 
Our Experience at the Austin Lone Star RV Resort
We stayed at the Austin Lone Star Rv resort for our cross-country trip to Big Bend National Park.  We spent three nights here and enjoyed all that Austin has to offer.  Austin is a fantastic city with plenty to do for everyone in the family.
Although we spent most of our time touring the city, our time at the park was great. We certainly enjoyed cooling off in the pool after a long day of the Texas heat. In addition, the staff was great to us and very helpful. Our site was well-maintained and level.
One of the most memorable things we did while visiting Austin was viewing the Congress St. bats. Hundreds of people lined up along the bridge, and to was a party-type atmosphere.
Our evening along 6th Street was filled with great food, drinks, and new friends. Many different bars and restaurants can cater to all ages. If you visit with kids, we recommend stopping at the Museum of the Weird along 6th Street. This unique attraction offers a weird look at things such as Bigfoot, Fairies, and circus acts. It is a look back at the days of the sideshow.
We highly recommend adding Austin to your travels. Of course, if traveling in your RV, this is the perfect spot to set up camp.
We love hearing from our followers. Please leave a comment below. 
Have you visited Austin? How was your experience? Do you have any tips for families, or RVers, visiting this great city?