The Alamogordo / White Sands KOA Journey is the perfect place to camp and visit the White Sands National Park. Here, you will get everything you expect from a KOA journey. Located only 17 miles from the National Park, this location is perfect. Read our KOA post to learn more about the KOA designations and why we choose them when possible.
Alamogordo / White Sands KOA Location
412 24th St, Alamogordo, New Mexico
The White Sands KOA Journey is located on the Northside of Alamogordo on 24th Street, 1-1/2 blocks East of White Sands Blvd (Hwy 54/70). Look for the KOA sign.
Campground Amenities 
White Sand KOA is nestled in the Tularosa Basin. Its location offers excellent views of the surrounding basin. This urban KOA campground can accommodate every type of traveling camper. In addition, it includes a large rec room and a long and great pool to help cool off from the New Mexico heat. Nearby you can enjoy hiking or sand sledding down the vast gypsum dunes at White Sands National Park and learn about New Mexico's role in the U.S. space program at the New Mexico Museum of Space History. Of course, only five miles away is McGinn's Pistachio Farm, home to the world's largest pistachio. 
Full RV Hookups With 50 amp Max
Accommodates up to 100′ RVs
Clean Laundry Facilities
Each Site Offers a Picnic Table and Privacy Wall
Clean Bathrooms and Shower Facilities
This campground is found in downtown Alamogordo, New Mexico. This urban campground doesn't offer trees and other things you would expect from being in the wilderness. However, it makes up for it with its amenities. The bathrooms and showers were pristine. The pool was clean and well-maintained.
The sites were well-kept, and all of them were pull-through sites. The staff on site was great and extremely helpful in helping us plan our time in the area, and they offered great tips for visiting White Sands National Park. 
We highly recommend setting up camp here if you plan to explore southern New Mexico or plan to visit the White Sands NP.
Our Experience at the White Sands KOA Journey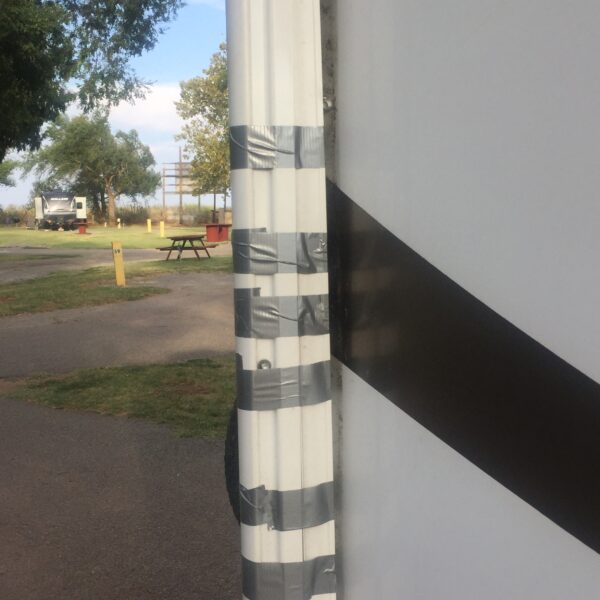 Our stay at White Sands KOA Journey was part of our cross-country trip to Big Bend National Park.
We spent two nights visiting White Sands NP and exploring the area. Had a great experience during our short stay at the campground. The staff was more than helpful, our site was clean and level, and we were glad to have a clean laundry facility after being on the road for several days.
This was part of our third cross-country road trip and the location of our first major RVing incident. We had planned to watch the sunset at White Sands NP. However, we didn't tow a vehicle and had to close up the RV to take it to the Park. Unfortunately, we forgot to bring in the awing and clipped a tree. Thankfully, the staff was more than helpful. They helped us get in the awning brought in by hand and secured it to the RV. As you can see in the photo above, we duck-taped it to the RV and drove back to Massachusetts.
This was a great stop and one of those locations that will always bring back laughs and memories of our awning incident.
We love to hear from our followers. Please leave a comment below. 
Have you visited the Alamogordo / White Sands KOA Journey? How was your experience? Have you visited the White Sands National Park? Any tips for others heading to this area in New Mexico?