Our third cross-country trip brought us from Massachusetts to Big Bend National Park. We must say that traveling through Texas with your family is truly an experience. During our trip, we spend a few days exploring San Antonio. During our stay, we set up camp at the San Antonio/Alamo KOA. Keep reading to learn all about this awesome KOA, and why we highly recommend this stop.
If you visit our Destinations page you will learn that we have stayed at over 30 KOA campgrounds all over the country. This was is certainly one of our top KOA campgrounds. In addition, it was KOA's 2015 Campground of the Year.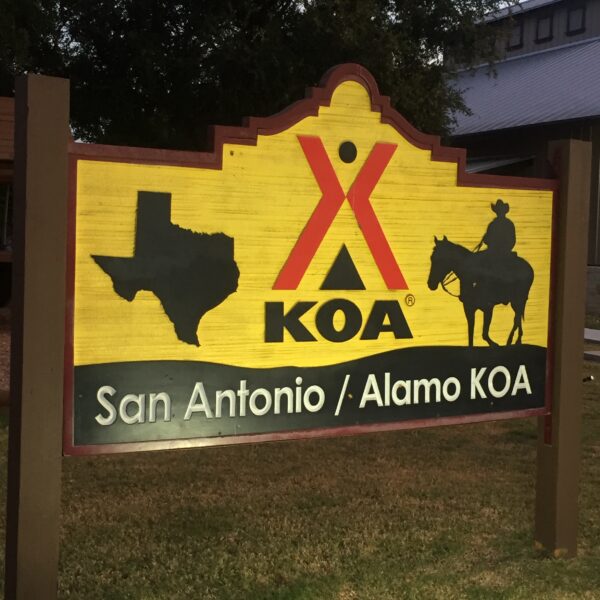 San Antonio/Alamo KOA Location 
The KOA is located at 602 Gembler Rd, San Antonio, TX
Driving Directions
I-35 S Exit 160 AT&T Center Parkway, turn left under bridge to second light Gembler Road, turn left, go 3/4 mile.
I-35 N Exit 159B Walters/AT&T Center Parkway go 1 mile to AT&T Center Parkway, turn right to second light, turn left on Gembler Road, go 3/4 mile.
I-10 Exit 580 WW White Road, turn north to second light Gembler Road, turn left, go 1 mile, entrance on the left.
The San Antonio/Alamo KOA is a KOA Holiday campground. The Holiday campgrounds are a perfect place to set up camp and go exploring.  In addition, there is always plenty to do at these KOAs, with amenities and services to make your stay easy. To learn more about the different types of KOA campgrounds be sure to review our KOA blog post. 
Gated Campground 
Swimming Pool 
Public Transportation Pick Up At Park Entrance 
10 Minutes From Downtown San Antonio 
On-Site Convenience Store and Pizza Shop 
50 amp Service and Sites up to 90'
Daily Activities 
On-Site Laundry 
From what we could tell all the sites in the campground were well maintained. Our site was very clean and had all we needed.
In addition, you can tell that the San Antonio/Alamo KOA employees took great pride in the campground. There was always someone around making sure that everything was very clean and that the guests were happy.
The campground is located in San Antonio and is only about 10-15 minutes from downtown.  In addition, when you are in the campground, you do not feel like you are surrounded by highways and the hustle and bustle of this large city.  It truly is serene it was beyond our expectations.
We highly encourage anyone looking to stay in the San Antonio area to make reservations and enjoy this park.  Of course, you don;t even need an RV. They have everything from RV sites, to tent camping and even cabins right on the water!
We stayed at this KOA for two nights. However, we did not spend a lot of time at the park.
Our time was short in San Antonio, and we wanted to see as much as possible in our short time. However, the time we did spend at the park was great. The staff treated up well and helped us plan our day in the city. In addition, they made sure we were comfortable in the summer heat.
Out time here was in the middle of August, and the temperature was sizzling. Thankfully, they have a great pool onsite.  After spending most of our time walking around San Antonio the pool was a welcome amenity!
We do not tow a car with us. Therefore, transportation is an important factor for us. This KOA has a public bus stop just outside of the gate. Thankfully, it was able to pick us up in the morning and drop us off in the evening. All for a reasonable fee.
Our stay here was fabulous. Therefore,  we highly recommend checking out the San Antonio/Alamo KOA if you plan on visiting this great city.
We love hearing from our followers. Please leave a comment below. 
Have you visited Antonio? Do you have any tips about what to see, and do? Did you stay at the San Antonio KOA? How was your experience?