When we purchased our first Rv in 2016 we knew little, to nothing about RVing. We had spent time at a few RV shows and searched online. Of course, we never thought WE would be writing articles to help new RVers. However, we do know that the first Rv purchase can be overwhelming and intimidating. Therefore, we have put together this list of RVing for beginners tips to help new RV travelers. 
Whenever we mention that our favorite pastime is RVing we always get a response like "I have always wanted to do that!", or "I keep trying to talk my wife/husband into buying one". Before anyone jumps into RVing they should understand these essential tips. 
1. What Type of RV Camper Will You Be? 
This is the first question you need to ask yourself. Are you just looking to get away on the weekends with the family? This type of camper is often referred to as a weekend warrior. We are weekend warriors most of the year. However, also do one cross-country trip a summer. Maybe you are looking at retirement, and thinking of living in the RV, or being full-time, most of the year?
In addition, you need to think about what you will do while camping. Do you want to sit under the stars, next to a crackling fire, and relax? Or, do you want to have all the comforts of home, and enjoy a party-like atmosphere? 
When are looking to purchase your first RV these are important questions you need to answer. We choose a smaller RV that we could easily set up as we travel around the country. In addition, we can easily go away for the weekend. However, if you are looking to set up camp for the season, and wish to entertain company, you may be looking for a bigger RV. It's extremely important to underscan your expectations prior to making a purchase. 
2. Will You Tow Your RV? Or Tow a Vehicle With Your RV? Or Just Depend on The RV?
The next big question is do you want to tow a camper, or will you be towing a vehicle? Both of the options have pros and cons. We believe it is really up to each individual family to decide what is best for them. 
To two a camper you need a truck that is powerful enough. If you choose this option you will always have a vehicle to leave the park in. Of course, if you are towing a car you have the same option.
Maybe you don't wish to two anything and just want a small RV. This was the option we choose, and it has worked out well for us. Our RV is a small 24-foot class c and we don't tow a vehicle. We have been able to get through large cities, and tall mountains, with our a problem. Fortunately, most RV parks near big sightseeing areas often have some form of transportation. However, this is something you should look into when making reservations.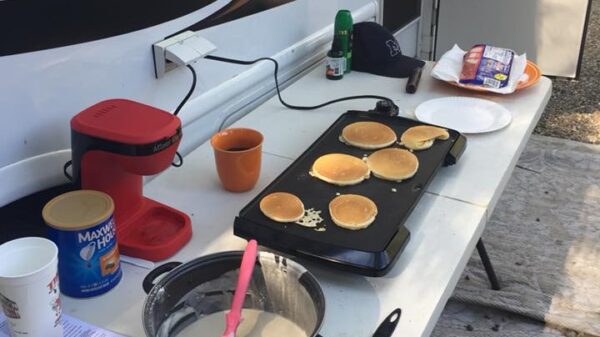 3. RVing is Expensive…You Need to Have A Realistic Budget.
First, you need to set a realistic budget for the purchase of an RV. Do you have enough for a down payment? How much of a loan can you afford? Can you afford a long-term loan? These are all important questions you must ask yourself. 
In addition to the purchase, you need a camping budget. Whether you become a weekend warrior, frequent long-distance traveler, or full-time RVer you need to have a budget. This needs to include campground reservations, food, and fuel for the RV. In addition, there may be entrance fees, souvenirs, and other day-to-day costs that add up. It is important to be able to manage this budget in addition to your daily life budget. 
Oftentimes, families only look at the budget as far as the cost to the RV. In order to enjoy the RV the rest of the cost need to be assessed as well. You certainly don't want to purchase an RV, and then not be able to use it.
4. Choose RV Parks That You Will Enjoy
It is important to realize that not all RV parks are alike. More importantly, it is important to understand what you are looking to accomplish while away camping. 
Before making that first reservation take some time to think about what your wish your camping trip to look like. 
Are you traveling with kids? Just you and your spouse, or maybe even just you?  Do you like lots of amenities or prefer open space with room to run? Would you rather have activities and entertainment? Or, rather be able to sit back quietly around a campfire and gaze at the stars? Therefore, you should be checking out campgrounds that fit your style. 
For example, we travel with our kids. So activities, swimming pools, and activity centers are important to us. As much as we would like to sit back, and relax the entire time w know the kids need some entertainment. It is important to understand what you are looking to accomplish before making reservations. 
5. Learn The RVing Rules and Etiquette
This is an extremely important RVing for beginners tip. Often times the RV beginners are easily identified because they have not figured this part out yet. We cover this topic in-depth in our Be a Good Neighbor post. However, there are a few important tips here that will help you get started. 
You will find that allthough the rules seem simple, and commonsense-based, not everyone follows them. Many RV parks pack the RVs close to each other. There are a lot of people, and depending on where you are lots of kids. However, you can still enjoy your vacation peacefully.
Conclusion
These five tips are good RVing for beginners start. It is a great way to travel and make memories. In addition, it is a great way to get away for a few days and relax. However, there is a lot to consider. If you have any questions about purchasing an RV, or RV travel, feel free to contact us. 
We love to hear from our followers. Please leave a comment below.
Do you have any other  RVing for beginners tips? Any you have questions about entering the RV lifestyle or purchasing an RV.