A couple of years ago our kids learned how to make these awesome campfire donuts during a Scouting trip. Now, this simple campfire donut recipe is one of our kid's favorite camping snacks! They are SO easy to make. Of course, they are also really fun to make.  After the first bite, your kids will soon be asking for them on every camping trip. All you need is a few simple ingredients, a dutch oven or cast iron pan, and of course a campfire. In our opinion, a Dutch Oven is a must-have RV accessory. There are so many other great campfire recipes in addition to these easy campfire donuts.
What You Will Need 
A Hot Camp Fire
Dutch Oven or Cast Iron Pot
48 oz Bottle of Vegetable Oil for Frying
Refrigerated Pillsbury Grands Biscuits
2 tbsp Cinnamon and 1 cup Sugar
A Zip Lock or Brown Paper Bag
Nice and Hot Campfire Coals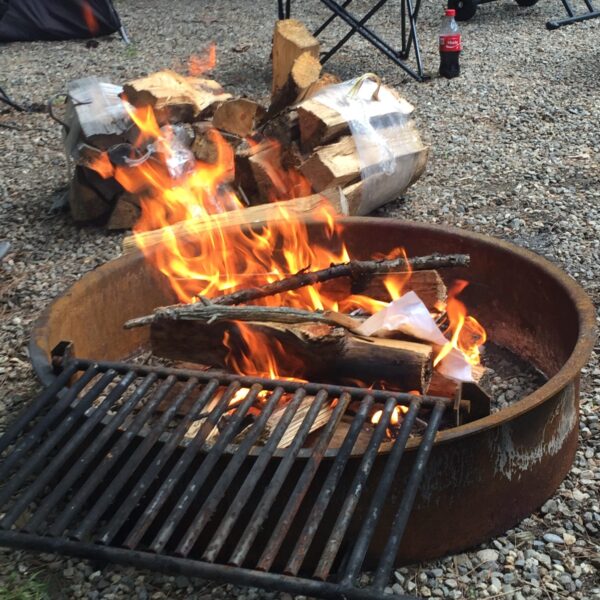 In our opinion, no camping trip is complete without a campfire. Whether you are camping in a tent or RV camping, there is nothing better than sitting around a campfire. Of course, since you have a campfire why not make some delicious donuts!
When cooking over a campfire with a Dutch Oven you don't want to cook over open flames. This is even more important when heating oil to fry your donuts. 
So we recommended starting the fire early, letting the flames die down. Once you have red hot coals it is time to start heating your oil.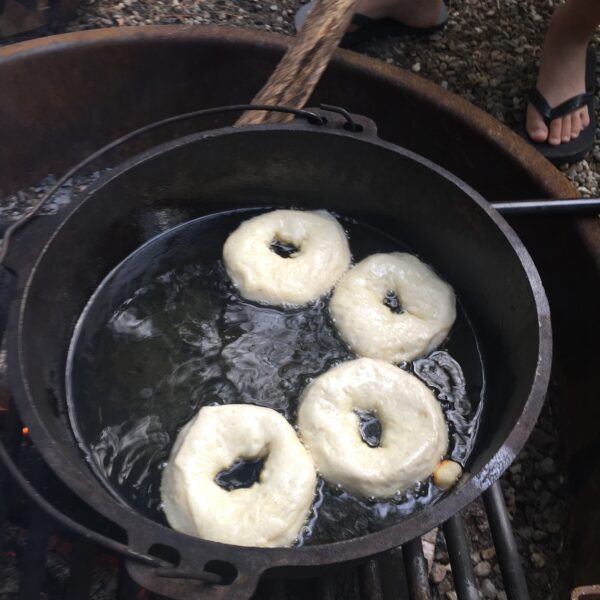 Once the fire is ready, and the coals are red hot, it's time to heat the vegetable oil. 
Start by pouring the oil into the cool Dutch Oven. We typically fill it approximately ¾ full. It is important to leave room for the oil to rise once the donuts are placed in it. It is important to remember that the oil is flammable. Therefore, you don't want any spilling over onto the coals. 
We recommend placing the Dutch Oven on a grate over the coals. However, if a grate is unavailable you can place the Dutch Oven directly onto the coals. Again, be extremely careful not to spill the oil. 
It will take a few minutes for the oil to heat. Therefore, you will have time to prepare the donuts.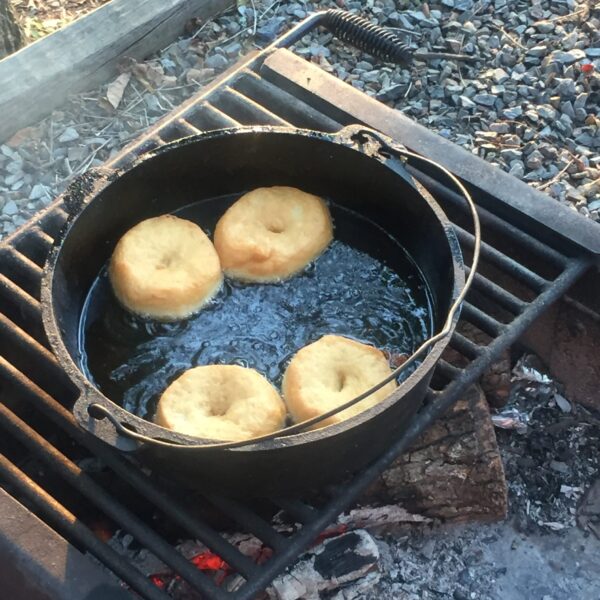 For this simple recipe, all you need is canned biscuits. We recommend using Pillsbury Grands! Homestyle Biscuits. There are easy to use and make large soft donuts. 
After separating the biscuits it's time to make the donut holes. Of course, you can use a knife, or cookie-cutter, to make the hole. However, our kids enjoy sticking a finger in the middle of the biscuit. Then just spin it around your finger to create a big hole, and stretch the dough. 
Once your oil is heated, and the dough is prepared, it is time to start frying some delicious campfire donuts. 
Check The Oil Temperature
It is important to ensure your oil is hot enough before placing the dough in the Dutch Oven. If the oil is not heated enough the dough will soak up the oil, and you will end up with soggy donuts. 
There is an easy, and simple way to check the oil temperature. This simple trick has worked well for us every time. 
All you need to do is take a small piece of the raw dough and place it in the oil. 
If the dough sinks or just floats around with no bubbles rising, you need a little more time. 
Once the oil is hot enough the dough will float on top, and the oil will start bubbling. Once this occurs it is finally time to add the dough and fry the donuts.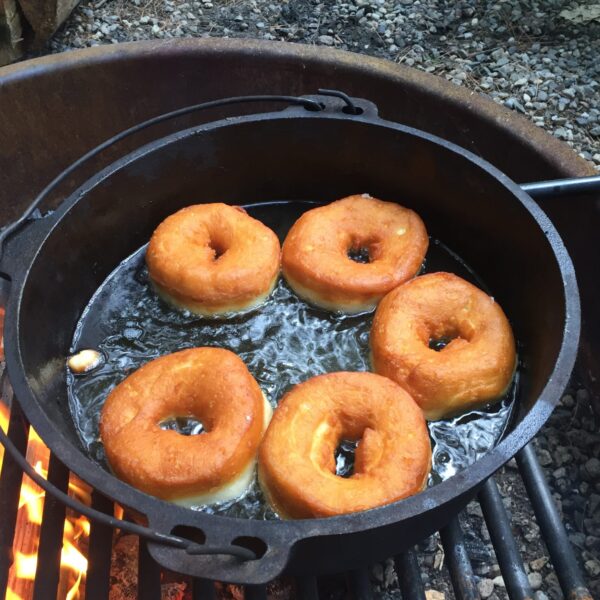 Once you know the oil is hot enough place to donuts in the Dutch Oven. Again, be sure to do these safely so you don't spill any oil onto the coals. We use a long pair of tongs, and place one at a time. 
When the bottoms are a nice golden brown use your tongs and flip the donuts over. Keep an eye on them to ensure both sides are fired to a nice golden brown color. 
If you are making more than one batch it is important to remember the oil is still heating up. Therefore, the additional batches will cook faster. 
Once the donuts are golden evenly remove them from the oil. We remove them and place them on paper towels so the excess oil doesn't make a mess. Of course, you can eat them just like this. However, we find the next step is what makes them so delicious.
Coat With Cinnamon and Sugar
The final step is always the kid's favorite step. 
Simply add the cinnamon, and sugar to your bag. We recommend a zip lock bag so that you can seal the bag, and give it a good shake. Of course, a brown paper bag works just as well. 
Next, take the warm donuts, place them into the bag, and give it a good shake! Make sure to cover them with the sugar mix. We have found that doing this while the donuts are still warm helps the cinnamon sugar stick to the donuts well. 
After letting them cool down, just a little bit, it is time to eat these tasty treats. 
They are best eaten when they are still soft, and warm! Of course, if you keep some for later you will not be disappointed. 
Be sure to try these tasty snacks on your next camping trip!
Our Campfire Donut Recipe Experience 
Campfire donuts are one of the staples of our RVing travels. It is an excellent way to keep the kids occupied, and the result is delicious. We have had the pleasure of cooking douts t some of the most significant locations around the country. Our favorite donut experience was cooking homemade donuts at Yellowstone National Park. If you are camping and have a fire going, all you need is this great campfire donut recipe to make it memorable
We love to hear from our followers. Please be sure to leave a comment below. 
Have you ever tried these delicious campfire treats? Do you have anything to add to this recipe to make the donuts better? Do you have other campfire recipes you would like to share?